TeachersFirst's Audio Books with Text
Other TeachersFirst Special Topics Collections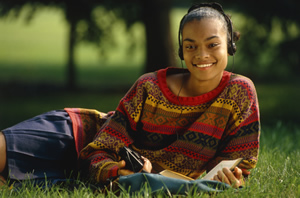 These educator-reviewed resources from TeachersFirst offer audio books with accompanying text so all students, including emerging readers and ESL/ELL learners, can experience literature and other reading selections in audio form as they reinforce and inspire literacy skills and enjoyment. Be sure to explore each site, as many include multiple types of activities, including the audio books and texts. The helpful reviews suggest ideas for ways to use the books in the classroom or outside of school to reinforce literacy skills, improve English skills, or study literature in new ways. See TeachersFirst's full collection of audio book resources and interactive audio book resources for other options.
If you're looking for a resource that will engage reluctant readers or help new readers with unfamiliar vocabulary words, you may want to incorporate these fun and interactive stories into your classroom. Students can read through the interactive texts independently, click on troublesome words, and listen to their pronunciations. Select from movies, videos, and games that illustrate special sounds, pronunciations, and spelling rules.
tag(s): sound (103), sounds (68), vocabulary (325)
Book-Pop
is a web enhanced reading adventure. Students may choose to read or listen to the stories. The pages are beautifully illustrated and filled with magic and imagination, with themes that evolve around human values.
This site includes advertising.
tag(s): listening (92)
In the Classroom
Make reading come alive by choosing one of the stories from this kid friendly collection. Preview it first to come up with a few discussion questions for students to think about throughout the reading. Project it on your whiteboard or at a student-run whiteboard center. Clicking on the "listen" icon will let the narrator do the reading, well-paced and expressive. Use the stories to enhance listening comprehension, or assign them for students to read or listen to with headsets from individual computers. If you choose a whole class approach, share a link to the same story on your class web page to enable students to view and listen to it over and over again from home, or to give students who were absent access to it.