There are many little ways to enlarge your child's world. Love of books is the best of all.

Jacqueline Kennedy Onassis
Did you know that August 9 is National Book Lover's Day? I didn't know it until just recently; however, it seems like a very worth celebration to enjoy. Of course, I also appreciate that we celebrate National Rice Pudding Day on the same day, so I am sure there is a way to combine the two events! For now, let's focus on books and ideas for celebrating them in the classroom and at home.
Many, if not most, schools do not return from summer vacation until after August 9. If that is true in your situation, consider these ideas for use at any time throughout the school year to celebrate the joy of books in your classroom.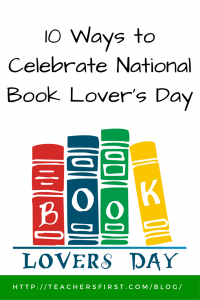 Create posters of your favorite books. Students (and teachers) love sharing using digital tools and graphics. Design a poster for one of your favorite books using Canva, then have students create and share a poster of their favorite book. Canva offers many options and designs for personalizing content. Choose a layout and add images, background, and much more with this very simple to use online tool. When complete share student designs on your class website.
Hold a monthly National Book Lover's Day Celebration. Demonstrate the joy of books through a monthly classroom celebration of books. Have students bring in comfortable pillows, snacks, and their favorite book. Spend the day reading and having book talks. Have monthly themes such as mystery, travel, or biographical books.
Read and record your favorite part of a book. Have students read a short book or their favorite part of a book using an online audio recording tool such as Vocaroo. Vocaroo is simple to use, just click to record and allow Vocaroo permission to access your computer's microphone. This site doesn't have a limit on the length of your recording, so as long as your internet connection remains, users record for as long as they like. When finished, click to save your recording. Share using the unique URL or choose the embed code to embed directly onto your class website.
Share book reviews using an online bulletin board. Create an online bulletin board with student book reviews using Padlet. Once you create the board and share the link, students click to add their response. Padlet is extremely versatile and allows users to add text, images, and share links. One fantastic new feature is the option of creating a Padlet with columns. Create columns for different genres of books, then have students add their review under the appropriate category.
Clean up your classroom library and add new books. Is your class library ready for a makeover? National Book Lover's Day provides the perfect opportunity to clean off the shelves and bring in fresh, new reading material. Check out your school or public library for books to add. Send out a request for book or magazine donations from the community. Have students help by sorting and classifying books for easy access.
Learn about favorite authors and illustrators of children's books. Most authors and illustrators have websites sharing information about their books and the creative process in bookmaking. Explore some of these sites together with your students for a behind the scenes look at what goes into book authoring and publication. Try starting out with this article from Reading Rockets with a list of 75 authors/illustrators Everyone Should Know.
Take photos of students and teachers reading books. One easy thing to do is to put a camera into the students' hands and let them take pictures of fellow students and teachers reading, with their permission of course. Encourage students to be creative and look for examples of reading in unusual places.
Read across content areas. Put away the textbook for the day and find books, online magazines, and newspapers for reading in the content area. TeachersFirst has a large list of ideas for finding reading suggestions located here.
Write and publish your own stories. What is more fun than reading your own stories or those of your peers? After writing stories, post student work using Storybird or Writing Navigator. Create delightful picture books using Storybird's art with your words. Browse through the many examples on the site to view the possibilities of creating your book. Writing Navigator is an excellent tool for guiding older students through the writing process starting with planning all the way through the publication process.
Make a recipe from your favorite book. Many books, not just cook books, contain ideas for cooking. Try a recipe from a book read in class. If you celebrate National Rice Pudding Day as I do, try reading and sharing Arroz con Leche/Rice Pudding. This bilingual story is the 2nd title in a cooking poems series by Jorge Argueta. Follow along in the book to make rice pudding for all to share (and celebrate National Rice Pudding Day!).
Every day should be National Book Lover's Day, but sometimes we all need a reminder to stop and celebrate the joy of reading. What are your suggestions for celebrating books in the classroom? We would love to hear your ideas in the comments below.