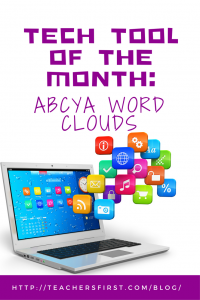 The ABCYA website offers a plethora of activities for the elementary crowd. This month's Tech Tool features the ABCYA Word Clouds tool. Even our younger digital natives crave some cool tech tools to incorporate into their lessons. Although the tool is described as appropriate for grades K-5, it could be used with middle schoolers.
Word Clouds provides a visualization of the words used most frequently. They also offer a great opportunity for teaching many skills. Although beneficial for all students, word clouds are especially helpful for your more visual learners. 
Use Word Clouds to dissect a speech. (I have a Dream Day is coming up on August 28.) Use this to examine this famous speech and help students to visualize the main points. It could also be used to help teach how to summarize and even find the main idea in a text. Use Word Clouds to have students "check" their own writing for repetitiveness. Do they notice too many recurrences of the same word?
This site is extremely easy to use. Simply click the green arrow to get started. Type or paste your text into the white box and click Create. Once your word cloud is created, you have the option to limit the number of words in your word cloud. You can also change the layout, colors, and font. Common Core standards are provided. There is also a "help" area, should you get stuck. Click on the Menu option to edit, save, or print your word cloud.
See our listings below for even more word cloud makers.
Review of ABCYA Word Clouds (grades K-7)
Review of Word Clouds (grades 2-12)
Review of Word It Out (grades 2-12)
Review of Word Cloud Generator (grades 4-12)