It was the worst day we have ever seen, but it brought out the best in all of us.
Senator John Kerry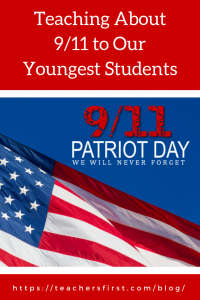 Do you remember where you were on September 11, 2001? Can you believe that it was 17 years ago? Think about the feelings and emotions that gripped the country that day and the following days. Our nation was torn apart by the terrible events that took place, but also pulled together by the grief and despair felt by all.
Almost every single student in our country was born after this date. They don't have the personal memories of watching events unfold on tv. They can't think back to where they were when they heard about 9/11. To our students, 9/11 is a historic event, not a personal experience.
Sharing our experiences from these events with our students is important. We need to tell them our feelings as the events unfolded on that day, how we learned about it, and how others reacted. These personal connections help students understand that this took place during our lifetime and provides context to how this relates to our nation's current history.
Fortunately, there are many resources to help us share the story of September 11, 2001, with even our younger students. These books, videos, and more provide the basic facts and information to tell the story in ways that all children understand.
Discussing 9/11 is still difficult for adults, but it is essential that our students understand the importance of this event. In addition, they need to hear our recollections of the events and the effect on our nation. Choosing materials appropriate for each age-level helps us teach about the event appropriately and provide context to an event that may seem like just another chapter in their history book.
What resources do you use for teaching about 9/11 to your students? What helps younger students understand what took place on that day? Do older students really understand the impact it had on our country? We would love to hear your thoughts in the comments below.