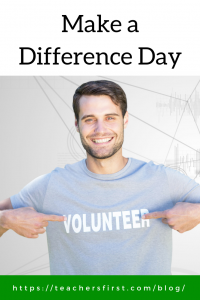 Make a Difference Day is a community service event held on the fourth Saturday of each October. The emphasis of this day is to encourage both young and old to volunteer in their community.
This event provides many opportunities for classroom learning experiences. When looking at National Social Studies Standards, volunteerism fits directly into the 10th theme – Civic Ideals and Practices. This theme promotes the use of Social Studies to provide the study and understanding of citizenship in a democratic republic.
Most students are willing to volunteer if it is a cause that especially interests them, but what can we do to enrich that experience? My suggestion is to include something that they already know to enhance learning. Including technology not only provides interest and engagement, but it is also good pedagogy. This article provides five compelling reasons for incorporating technology into your classroom.
Your school's tech coach is a wonderful starting point to get ideas and to find a mentor for incorporating technology into student's volunteering participation and learn how to use tech tools encouraged by your district. Unfortunately, not all teachers enjoy this opportunity so, let's take a look at some ideas to get you started.
Websites – be sure to check out the In the Classroom ideas in our TeachersFirst reviews for ideas on how to incorporate technology using these sites.
Charity Navigator

(

TeachersFirst review

) – this site is an excellent resource to share with older students. It provides objective ratings on many charities based on a variety of factors including financial breakdowns of spending and charitable giving. Have students explore the top 10 lists as a starting point for evaluating charities.

Kids Are Heroes

(

TeachersFirst review

) – many times younger students only visualize heroes as adults. Kids Are Heroes showcases kid heroes from around the world through short articles demonstrating their positive effect on their community and the world. Share this with students to learn about kids just like them while also providing ideas on their role in volunteering within their community.

DoSomething.org

(

TeachersFirst review

) – DoSomething.org empowers teens to take action to promote their social cause. Look around the site at the different campaigns and causes to find directions and ideas to spark interest in volunteerism.
How do you incorporate technology once students decide on how they want to volunteer? Here are some suggestions:
ThoughtPlan

(

TeachersFirst review

) helps you plan and organize in a structured way. Although it looks simple, this is a robust tool for listing ideas and adding details. Use this site as a substitution for a handwritten list and to create a list of student volunteerism ideas, then collaborate as a class to share ideas on where, how, and when to make them happen.

Once students decide on their volunteerism project, they may want to recruit others to participate. Augment your technology by using an online signup sheet; a perfect way to manage volunteers and supplies. Use

SignUp

(

TeachersFirst review

) to create your planning sheet, then share it with others. SignUp's flexible features allow users to schedule time spots, volunteer to bring listed items, and more. Participants also receive email reminders before any event. Use the Idea Center found on the site to find ideas and demos for personalizing your event.

Organize student projects with

Project Pals

(

TeachersFirst review

), then share with students. This tool helps to organize individual and group project-based learning activities. Choose from Common Core projects, or start with your student-designed projects. Add media files and documents to arrange a workspace for your students.  Additional tools allow you to monitor student progress and assess using the built-in rubric tool. Upon completion of projects, publish and share using a digital bulletin board like

Corkboard

(

TeachersFirst review

). If this seems a little complicated as a starting point, enlist a fellow teacher to collaborate on projects and work together to learn how to use Project Pals and Corkboard to encourage and promote student learning through a project of their choice.
Volunteerism and civic responsibility are essential concepts to teach students of all ages. Using technology to enhance their learning allows our students to go beyond participation by sharing their experience with others. Also, these tools provide opportunities for students to enrich understanding by learning about the importance of volunteering in both big and small ways.
What are you doing for Make a Difference Day? If you have suggestions for participating and sharing your activities, let us know in the comments.