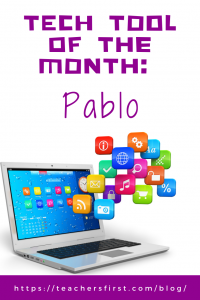 May is National Photography Month. Our tech tool of the Month for May is Pablo, an amazing tool to use to create and to share images designed for social media, using your own photos or the many images that they offer for FREE. Please note that you don't have to share the images on social media. You could just use this tool for image manipulation and many image project options.
My absolute favorite part is that Pablo is FREE, and what educator doesn't appreciate free. There is no registration necessary. Just make it, download, and share. Simple as 1-2-3. Now let's talk about the many cool options available with Pablo.
A wise place to begin is to choose the overall type of platform that you are going to share the image; this will determine the overall shape of your image. You have three choices: Pinterest, Instagram, or Facebook/Twitter. Pinterest is a taller rectangle, Instagram is square, and Facebook or Twitter offer a longer rectangle.
Now let's talk about those free images. When I say they offer free images, they have over 600,000 free images ready to use. Of course, there is the option to use your own images, which is sometimes more useful in school settings (if sharing images from a science lab, for example). You can reposition the image as you wish: zoom in and out, drag it to the center of the image field, and more.
Pablo offers various templates to follow: Quote, Announcement, Promotion, and a few others. They also have ten filters to make your image look even more unique! Try out the Light Contrast to Blue Tint to Grayscale, among others.
Next, decide if you want text added for the header, body, or as a caption. You can choose the font type and size for each of your areas of text, center the text, make bold or italicize, plus change the font color. You also have the option to add quotes and your own logo or additional graphics. Once you finished with your design, simply click the Share & Download button.
There are many ways to use Pablo in your classroom. This tool is simple enough, even younger elementary students could take advantage of the power of this imaging resource. Pablo is a great tool to use to share photos and create introductions at the start of the year or semester. Create images with text to use as part of the review at the completion of a unit in social studies, such as the Bill of Rights or the Revolutionary War. Students can share visually (with pertinent text) what they have learned. After a science lab (or activity), have students share photos and explain the steps that they took.
You could also use Pablo to use to share class photos from field trips, assemblies, or other special engagements. Share favorite quotes or poems using Pablo. There are many additional uses in language arts: demonstrate the understanding of the use of a comma, use to share characters (or locations) from a book, share the main idea or theme, share short story summaries, and more. World language classes could create images to share new vocabulary or even create vocabulary posters (images) to hang around the classroom to reinforce new vocabulary words. Since this site requires no registration (or cost), this is a fabulous tool to share with families on your class website. View the TeachersFirst Review to learn more about this engaging and colorful tool!