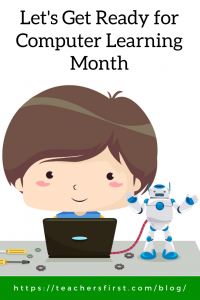 Computer Learning Month, established in 1987 to help those unfamiliar with computers learn what computers can do for them, is fast approaching. Today's students are digital natives and understand how to use computers to find and share information, making it vital to teach students how to evaluate and create media using five critical communication skills: understanding access, analysis, evaluation, creation, and use of appropriate actions.
Take advantage of Computer Learning Month this October by combining media literacy lessons with lessons about the upcoming presidential election. There is an overwhelming amount of information on the internet about the election and the candidates, and it isn't easy to navigate and discern fact from fiction. Let's take a look at some resources that work well when teaching the combined themes of media literacy and elections.
Where do I Start?
TeachersFirst Media Literacy Resources – This TeachersFirst® special topics collection includes our editors' choices for the best free media literacy resources reviewed on TeachersFirst. For a complete list of all items on TeachersFirst with a media literacy tag, click here.
Elementary School Resources:

Prodigy (reviewed here): Teaching Media Literacy – Browse through these suggestions for media literacy activities to teach students how to evaluate logos, learn about character traits, or build a brand using a range of media tools. Apply these ideas to the election by asking students to create a logo to encourage voting in your community or create a campaign poster using their character traits.

Teaching Tolerance (reviewed here): Choosing Reliable Sources – This lesson for students in grades K-2 helps students learn to evaluate online resources to find reliable sources to repair a bike. Modify this lesson to help students consider what outlets to use for reliable informationwhen learning about elections (for younger students consider applying this to in-school elections for line leaders, paper collectors, room monitor, etc.). Use the included Venn diagram to apply their learning to your lessons.

Teaching Tolerance (reviewed here): Evaluating Reliable Sources – This lesson is for grades 3-5 and teaches students strategies for locating and evaluating reliable online resources. The premise of the experience is to show students how to use media to consider school lunch resources. Adapt this lesson to include a vote for what students choose for the best school lunch resource. Use a polling tool such as PollToGo (reviewed here) to gather and analyze student responses.

Middle and High School Resources:

Bad News (reviewed here) – This game puts players into the position of people who create bad news and disinformation. The goal is to spread disinformation while gathering as many followers as possible without losing credibility. The site includes an information sheet for educators that provides background information and suggested uses in the classroom.

iCivics (reviewed here) – iCivics is the gold standard for finding and using civics lessons in classrooms. Included in the activities found on the site is the Media and Influence unit, which contains lesson plans that examine propaganda, the role of media, and interest groups. It also includes the Newsfeed Defenders, a game where students become the journalists at a social media site and have to recognize how to avoid dubious posts providing disinformation.

PBS Learning Media Election Collection (reviewed here) – Just in time for the 2020 election, this collection offers youth the opportunity to participate in the KQED Youth Media Challenge: Let's Talk About Election 2020 by creating and publishing audio or video commentaries about essential issues. The collection also includes an electoral college interactive for students to explore electoral results from the past 58 presidential elections.

Facing History (reviewed here) – Facing History offers history lessons that challenge students and teachers to address bigotry and hate in the United States. Use the keywords "media literacy" in the search tool to find over 400 units, lessons, and collections to teach media literacy using historical events and the latest news topics. One excellent resource is How to Read the News Like a Fact Checker: a Media Literacy Strategy – it provides details on how to read information laterally to determine the quality of online information.
How can I learn more about media literacy?
Educators need to understand the importance of media literacy, too. Here are some additional resources for professionals to guide instruction and help students develop the necessary critical thinking skills required to maneuver through digital media. Use these resources to brush up your knowledge of media literacy as you prepare your Computer Learning Month activities.
OK2Ask: Fostering Accountability: Media Literacy in the Classroom – Watch this archived OK2Ask session to learn more about media literacy and how to incorporate media literacy standards into classroom lessons.
KQED Media Literacy Courses (reviewed here) – Sign up for the November 2020 course that teaches how to analyze online resources and critically examine the use of media.
Media-Savvy Kids – Scholastic shares ideas from classrooms on how to use images and critical thinking skills to separate fact from fiction.
What's Next?
Media Literacy is an essential component of academic success. It allows our students to understand that anyone can create content, and that leads to a proliferation of resources from unknown sources. Do they know who created it? Where did the information come from? How do we determine if it is credible? These questions and others are integral to becoming critical thinkers and consumers of information.
As you prepare for Computer Learning Month, consider including media literacy lessons as an essential part of your students' computer skills. Share information with parents through your class website or communication system – they'll appreciate learning media literacy skills along with their student.
How are you including media literacy in your computer and election lessons? Let's learn together by sharing tips and ideas in the comments.