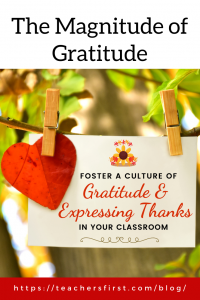 As the coronavirus continues to rattle our world, the current climate is challenging for both students and teachers. Teachers are working tirelessly to create a supportive and encouraging classroom culture – the bedrock for instilling confidence in our students to take risks in the classroom, share ideas, and experience more in-depth learning. Focusing on seeing beyond our challenges and concentrating on what we are grateful for is a significant aspect of classroom culture. Expressing gratitude is a significant contributor to positive classroom culture, and gratitude is an important character trait to develop. With gratitude, people acknowledge the goodness in their lives and take time to show appreciation and return kindness. Supported by emerging research, gratitude is the bridge between students' success in school and their social well-being.
November is a time of year that ignites our passion for thinking about what we're thankful for – and encourages us to give to others due to that thanksgiving. Creating a culture of thanksgiving in our classrooms focuses on relationships and community. Many elementary school students will trace their hands to make a turkey and write what they're thankful for on each finger. However, the benefits of gratitude extend beyond the traditional classroom Thanksgiving activities. The following activities will help you practice and enhance gratitude in your classroom.
Thank-you presentations are fun for the students to create and watch. The students can create a presentation on what they're thankful for using Microsoft Sway (reviewed here).
Encourage your students to be reporters and interview a classmate about giving thanks. Video record the interview and use Kapwing (reviewed here) to edit and publish the footage.
AdobeSpark (reviewed here) is a fantastic site to create visual stories for students to express thanks. Students can also keep a journal of what they're grateful for and why.
Create a Google Jamboard (reviewed here) and encourage students to post virtual sticky notes about what they're grateful for about a classmate. Use paper notes and deliver messages of gratitude to surprise people around your school.
Cultivate a sense of gratitude through a scavenger hunt. Post challenges for the students to complete using GooseChase (reviewed here). For example, they could find someone they're grateful for, take pictures of things that make them happy, or find people around the school to express their thanks. Students can work alone or in groups.
Encourage your students to research the benefits of gratitude and expressing thanks. Students can organize their information using Wakelet (reviewed here) or create a presentation using Moovly (reviewed here) to share ways their classmates might incorporate more gratitude into their lives.
Challenge students to think about people that have inspired them and what was most significant about their inspiration. Use Weebly (reviewed here) to create a website expressing thanks to the person and send them the link to view the site.
November is a time of the year to cultivate an attitude of gratitude, but we can integrate these skills throughout the year. The simplicity of gratitude and expressing thanks camouflages its impact. How are you fostering a culture of gratitude and expressing thanks in your classroom? We would love to hear your thoughts and teaching ideas – be sure to share them in the comments below.