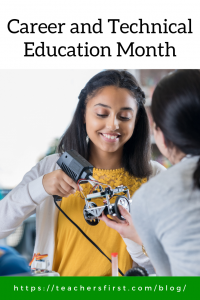 Career and Technical Education (CTE) Month is a public awareness campaign that takes place during February. The goal is to raise awareness of the value of CTE and celebrate the accomplishments of career programs and support provided by schools across the country.
This infographic on the Association for Career and Technical Education's (ACTE) website provides an excellent overview of career and technical education. The infographic includes a look at the sixteen career clusters that offer students pathways to become career and college-ready through three specific areas – academic, employability, and technical/job-specific skills.
A further look into the ACTE site reveals many lesson plans, webinars, and other resources for educators interested in helping students explore career options. Each newsletter includes links to timely information on career training covering many different topics and career paths.
Unfortunately, not all educators have access to robust career and technical programs. Time and curriculum objectives are sometimes obstacles to allowing students the opportunity to take a deep dive into exploring areas of interest.
Here are some suggestions for technology and STEM career websites that work well as part of an independent learning center or a student research project. Consider using these activities as a replacement for homework, or take a portion of a day monthly or bimonthly to focus on learning about career options and how to plan and prepare for the future.
Technology in Action
Each of these sites includes lesson plans and activities to engage students in learning through hands-on exploration.
Young Scientists Lab (reviewed here) – View career profiles of scientists, read student blog posts, and complete engaging science experiments using everyday materials. Visit the teacher's section to find lesson plans and interactives that provide students with opportunities to learn about and explore science topics.
NASA Education Robotics Site (reviewed here) – Visit the NASA STEM @Home section to find many activities and explorations for grades K-12 with spaces to play, explore "out-of-this-world stuff," and experience NASA. Discover options for students 16 years and older to apply to be NASA interns.
SciGirls Connect (reviewed here) – Learn about engineering and designs from female role models. Watch videos from women in science fields sharing descriptions of their careers and providing a look at the specific work they do within their chosen field. The site's featured activities offer students opportunities to build knowledge through design and scientific inquiry processes, such as making a stethoscope or designing a planter from recycled materials.
Promote Interest
These sites are excellent options to include as part of learning centers or during computer time. They provide many different methods for students to explore the world of science and investigate careers they find interesting.
Science News for Students (reviewed here) – This science magazine for students covers the world of science from bugs to space and tech. Point out the explore dropdown box at the top of the home page to your students so they can find collections, cool jobs, experiments, and much more! Registration isn't required, but registered educators have access to each article's readability score, discussion questions, a link to another version of items at an advanced reading level, and correlation to science standards.
Cabinet of Curiosities (reviewed here) – This site is sure to appeal to many students. It offers a look into many science careers by providing an overview of the profession and interviews with scientists from different fields under the central umbrella, such as anthropology or marine science. Don't miss the Virtual Career Connections, which offers live 45-minute teaching events. This area includes archives of past events featuring discussions with a conservation criminologist, a fisheries biologist, and more.
icould (reviewed here) – Explore careers, take a self-reflection quiz, and find teaching resources at icould. Point out the site's explore area where students can learn about career paths, hear stories from employers, and watch videos from professionals in many different career fields.
Lessons
Find ready-to-go career and STEM lessons at these resources designed to engage learners with activities that use topics already familiar to students.
Curious George STEM (reviewed here) – Engage younger students (PreK-4) in STEM activities as they learn with their friend, Curious George. As students design objects and learn about the engineering process, they also begin to explore career options and skills used by engineers, astronauts, and others.
My American Farm (reviewed here) – Students are taught early in their education about the value of farms and agriculture to society. My American Farm tells K-5 students more about the specific skills and equipment needed to succeed in farming. Play games to choose the proper equipment for the right job or get inspired by real-world videos to visit the places where men and women of agriculture work.
STEM Behind Hollywood (reviewed here) – Engage middle school and high school students to explore math and science concepts through the magic of Hollywood. Learn about how epidemiologists track and curb diseases with a Zombie Apocalypse activity or play the villain and apply physics concepts and data collection to foil a "STEM-tastic Superhero."
The importance of preparing students for a future workplace is undisputed. Providing information and exploratory activities to learn about careers may not be built into all curriculums, but it is possible to include these opportunities through well-designed activities that supplement current teaching materials. 
Do you celebrate Career and Technical Education Month? Perhaps you have suggestions for teaching activities or career resources for students. We enjoy learning from our readers – share your ideas in the comments below.