The Winter Solstice is the time of ending and beginning, a powerful time — a time to contemplate your immortality. A time to forgive, to be forgiven, and to make a fresh start. A time to awaken.

Frederick Lenz
It isn't always possible to create well-developed cross-curricular lessons based upon a single theme. Still, many themes adapt perfectly to building exciting lessons that span the curriculum. The winter solstice comes at a perfect time for creating tasks that include strong academic content while still encouraging student interest and excitement in learning activities.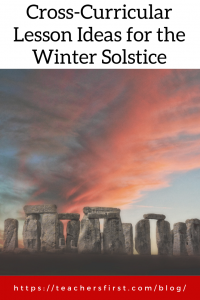 This year the winter solstice takes place in the northern hemisphere on December 21 at 10:59 EST. On this day, residents of the northern hemisphere experience the shortest number of daylight hours in the year. For example, in Fairbanks, Alaska, daylight is only 3 hours and 54 minutes long, while Bogota, Columbia, is lucky to enjoy over 12 hours of sunlight.
The solstice is much more than an annual occurrence. It is the astronomical first day of winter and signals the changing of seasons. Many cultures celebrate the change of seasons in different ways. Due to the cultural significance of the winter solstice, it becomes an excellent topic to incorporate into other areas of the curriculum.
Let's take a look at some ideas on how to integrate the winter solstice in a variety of content areas:
Science:
Math:
Language Arts:
Social Studies:
One resource for organizing resources is Wakelet (reviewed here). Wakelet's column feature makes it easy to collect information by content area. This example contains many resources to use as a starting point for a winter solstice cross-curricular unit. Use the link to duplicate this collection and edit it to fit your needs.
Wakelet is also a fantastic tool for students to share their learning. For example, this template presents a guideline for students to research a famous person. Duplicate the template, then edit to change it a research project based upon students' understanding of seasonal changes, cultural celebrations of the winter solstice, or a comparison of seasonal changes around the globe. Another easily adaptable example is this collection that shares students' recordings and reports about young people making a difference in the world.
Learn more about the many uses for Wakelet by watching the on-demand recording of our OK2Ask workshop, Tech Integration Made Easy with Wakelet. Wakelet makes it easy to curate, collaborate, and create content in all subjects and grades!
Although the winter solstice is the shortest day of the year, it also signals the beginning of the sun's return. Using a cross-curricular approach to teaching about this annual event provides students a deeper insight into the impact of the sun on the earth in many ways, both scientifically and culturally. 
What suggestions do you have for teaching about the winter solstice? Do you have cross-curricular ideas to share? We always enjoy learning together with our readers. We'd love to hear your strategies in the comments below!