On July 2, 1964, President Lyndon Johnson signed the Civil Rights Act that banned discrimination in public places, provided for integrating schools and other public facilities, and made employment discrimination illegal. It was the most comprehensive civil rights legislation since Reconstruction. Teach your students about the Civil Rights Act!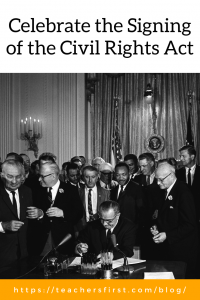 The Civil Rights Movement is a vast subject with many perspectives. First, provide students with background regarding the Civil Rights Movement as a whole. Many resources are available from elementary to secondary ranging from entire activity books to short lesson plans. You can teach the topic in different ways, from places and people to teaching beyond the traditional narrative to the press's role in the movement.
Teaching about the Civil Rights Act can engage students of all ages. Your approach can be simple or more complex, depending on your needs. You may use one lesson or multiple lessons based on your pacing guide. Help students view the impact of the Civil Rights Act through multiple lenses. For example, it can be taught based on employment, the struggle for racial equality, or even current events. Take your teaching further by delving into the civil rights movement after 1965.
Celebrate the Civil Rights Act in your classroom! As always, check out the TeachersFirst resources and blog for more helpful teaching tips around Civil Rights.