Teachers can use the world around us to connect and integrate subject areas. Infusing current events into our instruction is necessary to teach our students how to participate in society. We must move students beyond merely consuming information and provide them with experiences to examine issues and develop critical thinking skills.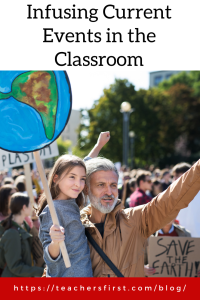 Engaging with current events allows students to examine issues from myriad perspectives and presents challenges. Unfortunately, all the information and disinformation can make discussions challenging, and finding kid-focused curated content takes a lot of work. TeachersFirst has those resources to help you infuse current events in your content area and bring classroom conversations to life. The resources listed below can help you pinpoint the best materials for your grade level and content: 
Newsela (reviewed here) – This resource allows teachers to search articles and trending topics with appropriate reading levels for their students. The articles also feature questions and writing prompts to foster discussion in the classroom. Newsela is safe for students, but please preview the articles to ensure the content is appropriate for your grade level.
Live Science (reviewed here) – This online magazine provides articles on current topics in the world of science and can help increase reading across the curriculum. 
The Learning Network (reviewed here) – This New York Times site provides resources for bringing the world into your classroom. Aside from current event articles, The Learning Network also has lesson plans, writing prompts, graphs, photos, videos, and more. 
CNN 10 (reviewed here) – This daily news show for students over 13 breaks down complicated current events and global issues in ten-minute or less commercial-free videos that include a transcript. Students could watch the clips before class for discussions.
DOGOnews (reviewed here) – This kid-friendly and colorful resource is excellent for primary students. It provides opportunities for students to discuss current events, and many articles include videos.  
Extra, Extra, Read All About It – Peruse these great suggestions and resources in this TeachersFirst exclusive, choose one or more, and craft a lesson to help your students look at current events with an analytical eye.
By providing a safe environment for discussion and helping students think critically about the world around them, teachers play an essential role in preparing students to be successful in the workplace and as global citizens. Share your ideas and resources to engage students in learning about current events in the comments below!