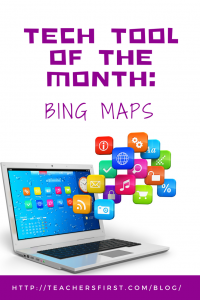 March marks the anniversary of the first printed map of the USA. Abel Buell, of Connecticut, created the map in March 1784. There are only seven original copies in existence today. In honor of the first printed map of the USA, this month's tech tool is one of the greatest free mapping tools that I have ever explored – Bing Maps!
This month seems like the sequel to last month's tech tool – Bing Images! But Bing offers so much "bling" that it deserves this second post. If you missed last month's blog post about Bing, here are the basics and some cool features. On the Bing search engine homepage, there are lots of unique treasures. Find the Image of the Day and scroll down to read about the significance of the image. Try your hand at the short quiz related to the image. Another neat area to check out is the Fun & Games link at the top right menu. Explore the News Quiz, Geography Quiz, Puzzles and Games, and more.
Bing offers many similar search options to Google and other search engines. It also provides some features that you may not be aware of (or seen on another search engine). Many features of Bing Maps are available with no account. However, to see ALL features, be sure to log-in to your Microsoft account.
Bing Maps is an online mapping resource that recognizes your location and then provides directions anywhere! You have the option of three different map views: road, aerial, or street-side views. Add your Favorites, such as your home address. Save Collections, possibly to vacation destinations, family or friends homes, and more. Use the icons to find gas stations, restaurants, and other important locations. You can even view current traffic along your route. There is a lot to explore on this mapping tool!
Use Bing Maps in your classroom during geography class and beyond. During reading, share the locations of stories with your students. In history class, share locations of famous battles and other historical sites. Share the birth locations of different genres of music or the homes of musicians. Teach map skills using Bing. Find many additional classroom use ideas for Bing Maps in our full review. Get on the road with Bing!