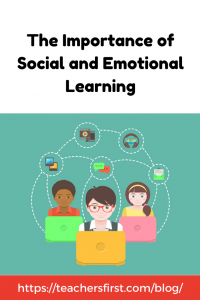 I'm going to begin this post with one of my favorite quotes from Maya Angelou as processed through the lens of an educator. As a teacher and administrator (and even in my personal life!), I often reflected on this quote to guide my daily practice.  To say I firmly believe in its impact would be an understatement. All right, all right, I'll get to sharing it already:
"People will forget what you said, people will forget what you did, but people will never forget how you made them feel."
So, what do you think? Are you buying into it also? Well,  jump on board, because the importance of social and emotional learning (SEL) is undeniable. In my time as an administrator, my summers were filled with interviewing and more interviewing. So many candidates with so many impressive qualities and knowledge. Of course, credentials are important, but what I would look for in a potential teacher is a person whom I felt truly understood the social and emotional needs of students and would put that at the forefront of their teaching. Relationships are key. Correction—positive relationships are key. I could teach a teacher how to teach, but teaching them how to build positive relationships is something I needed to be innate. Let's take a look at the main components of social and emotional learning as illustrated by the CASEL framework diagram.
As you see on the wheel, there are five major components to social and emotional learning:
Self-Awareness

Self-Management

Social Awareness

Relationship Skills

Responsible Decision-Making
All are equally important, and as educators, we have a responsibility to educate the whole child. School culture, procedures, modeling, and commitment all play a big role in the promotion of SEL. Where to begin? Does your school have a school climate committee, sunshine committee, PBIS (Positive Behavioral Interventions and Supports) team, an advisory planning group, etc.? Take a look at that group and go from there. If your school doesn't already have such a group, create one! Some ideas on where you focus could be on modeling, equitable practice, family and community partnerships, mindfulness practices, or after-school activities.
Try it and let us know how you and your school engage in social and emotional learning practices!