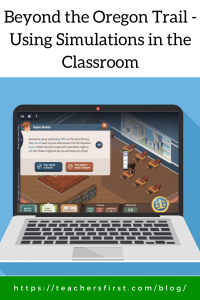 Do you remember playing The Oregon Trail game? For some students, it was the first opportunity to virtually experience the life of pioneers as they searched for a better life in Oregon. Players select from different options, including the traveler's profile, date of departure to head west, money spent on goods, and more. Throughout the game, players make choices that affect their health, safety, and ability to continue toward their destination.
Like other simulations, The Oregon Trail motivates student learning through the interactive opportunities provided within the game scenario. Because players face consequences and rewards within the game, feedback is instantaneous. It also gives students the chance to reflect upon choices and transfer that knowledge to other provided scenarios.
Why should I use simulations?
Simulations are designed to represent or reflect a real situation or system. However, many offer opportunities for enhanced learning in different ways allowing students to experiment with choices and make mistakes in a safe environment. Users of simulations explore real-world scenarios that bring otherwise obscure information into the realm of hands-on learning.
Where can I find simulations?
Let's look at some excellent simulations to try out for different learning situations:
Math and Science:
The Stock Market Game (TeachersFirst review) – This classic game provides students the opportunity to learn the fundamentals, rewards, and consequences of investing. Groups of students begin with a $100,000 investment and work within a live trading environment to grow their portfolio based on the constantly changing global financial markets. This site offers a teacher support center with a complete implementation guide for instruction.
ExploreLearning Gizmos (TeachersFirst review) – Gizmos is a robust repository math and science simulations. Search by grade level, topic, academic standard, or textbook to find just the right option. Your free account allows access to 20-40 free Gizmos and includes teacher guides and lesson plans. Gizmos change each semester; all other content is available for 5-minute use per day.
PhET (TeachersFirst review) – PhET is my favorite site for math and science simulations. It offers tools and activities for elementary through college-level students, that cover a broad range of topics from basic arithmetic skills to Calculus. Science content includes earth science, biology, physics, and chemistry interactives. Most simulations offer the opportunity for free exploration and games with different levels of difficulty. Choose any game to view a description, see alignment to Common Core Standards, and select from teacher-submitted activities, which often include lesson plans and materials to download for use with the interactives.
Other simulations to try:
Social Studies:
iCivics (TeachersFirst review) – Where else can you take on the role of president and make decisions that affect the country and the world? Learn that being president isn't as easy as it might seem as you play Executive Command. Play People's Pie to learn about budget-making decisions within the federal government or run a presidential campaign in Win the White House. These and other excellent simulations offer the unique opportunity for students to role-play decision makers in government and discover the consequences of their choices.
The United States Diplomacy Center (TeachersFirst review) – Take advantage of free classroom materials that provide hands-on exercises that engage students in negotiating global challenges such as migration and wild-life trafficking. Support materials include teacher guides, videos, and sample simulations submitted by educators.
Darfur is Dying (TeachersFirst review) – Created to raise awareness of genocide in Darfur, this game takes participants through the grim task of surviving in horrific conditions. Students try to find water and food while avoiding conflict with members of the militia and learn facts along the way about the genocide taking place in this country. Although it is not a pleasant topic, this simulation provides insight into the difficulties faced by refugees.
Other simulations to try:
Other simulations help us see the world through someone else's eyes. Understood (TeachersFirst review) shares several simulations to help students understand learning and thinking differences. Experience what it's like to have reading, writing, attention, math, and organization challenges with interactive game simulations that put you in someone else's shoes.
Some final thoughts…
If you feel nostalgic and want to try your hand at The Oregon Trail, a version is available at Archives.org. How well can you prepare for your westward journey? Will you and your family survive the trip to begin your new life in Oregon?
Learn more about how to increase student achievement and engagement in your classroom with simulations at tonight's (May 19) OK2Ask webinar and view our upcoming workshops for more edtech tools.
We enjoy hearing from our readers. Let us know how you use simulations to engage and enhance student learning. Do you have a favorite simulation or a tip for other educators? Tell us in the comments below!