In part 1 of this blog, we introduced you to Edpuzzle and discussed the application of both the SAMR model and the Triple E Framework to help you integrate Edpuzzle into your lessons. Today's post offers detailed instructions about how to use this tool and also shares many classroom use ideas by subject.
How to Use Edpuzzle:
To start using Edpuzzle, you must click Get Started to sign up. Once you have an account, visit the homepage (screenshotted below) and log in to begin.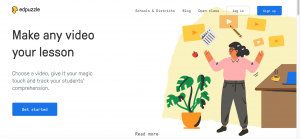 Once you click to log in, Edpuzzle will ask if you're a student or teacher.

Logging in will take you to the Teacher view homepage below. Notice the blue Add Content button.
To begin creating your Edpuzzles, click on the Add Content button. The program will take you through the process step-by-step, making it easy to add your own questions and voiceovers.
Under the Add Content button, you have the options to Create a Video using one of the sites already available with Edpuzzle. You can also Upload your own video, add a Student Project (assign students an Edpuzzle to complete), or create a New Folder (useful, for example, for adding a new class to your account).
The site offers many videos that are already vetted and ready to go. This is only a partial list of the channels available to use with Edpuzzle: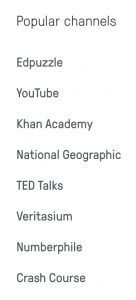 Below is an example of what you will see when you do a search through available YouTube videos. You will notice they all list the video duration and topic. You simply click the box to begin—I chose to edit the "Volume of Rectangular Prisms" video.
Your first task will be to choose if you want to use the entire video or if you would like to cut the length of the video to your desired time.
The image below shows a close-up of the cutting area. There are three terms on top of the video: you can Cut, add a Voiceover, or add Questions. Click and drag the blue line to your desired length. The new total duration will display under the blue line.
The next tab is for Voiceover. Click here to add your own narration to your video.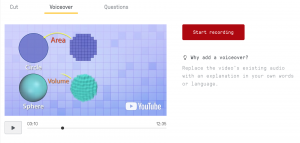 Edpuzzle requires you to allow the use of your microphone before you can begin your narration.
Click the red button to Start Recording whenever you are ready to begin. Click the button to Stop Recording when finished.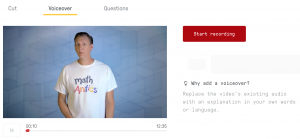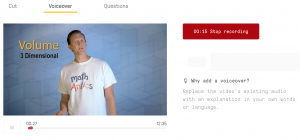 The Questions option allows you to create Multiple-choice Questions, Open-ended Questions, and Notes. Screenshots of all three options are included below. Click the type of question you want to create to begin!
Next is an example of how the open-ended questions appear as you are creating an Edpuzzle. Open-ended questions are a great way to encourage students to think both creatively and critically.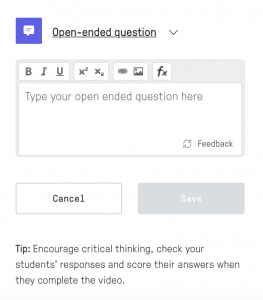 The Note option is a great way to add little blurbs of information, images, or a recording of an additional explanation to the video.
When finished, click Publish (blue button on the top right side), and you are ready to share your Edpuzzle lesson with your students!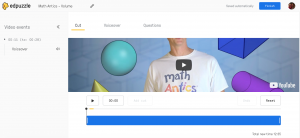 Now that you have completed the editing, you are ready to click to Assign the lesson.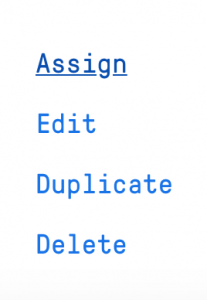 At this point, you can assign your Edpuzzle to a class or you can find the public link to share with specific students.
You can very easily add classes, invite students to join your classes (or click to add the students manually), and add assignments and due dates.
Classroom Use Ideas:
Edpuzzle offers educators the opportunity to get creative while they share lessons and formatively assess their students. When you combine the voiceover, notes options, and quick-check quizzes through the video clips, the likelihood of higher levels of understanding increases. Edpuzzle can be useful in nearly every subject area and for countless topics.
Use an Edpuzzle in any class to teach the current unit, prepare students for a final assessment, or as an alternative assessment to a traditional test. We've included some specific ideas for using Edpuzzle below, but the only limitation is your imagination!
Create an Edpuzzle video about…
Social Studies:
A country or state.
The voting process.
The electoral college.
How bills are passed through congress.
The Roaring 20s.
The Great Depression.
The Spanish flu pandemic.
A famous person from history (such as the first man to walk on the moon).
Science:
The human body (or systems of the body).
Sexual reproduction.
The steps in the Scientific Method or the Engineering Design Process.
The steps (including images and video clips) from a class science experiment or lab.
Astronomy, stars, and the phases of the moon.
Weather phenomena.
Insects and other bugs.
Math:
Shapes in geometry.
The steps to solve a difficult word problem.
The order of operations (PEMDAS).
Adding improper fractions.
Multiplying decimals.
Solving algebraic equations.
The difference between the mean, mode, and median.
Language Arts:
Beginning letter sounds.
Basic reading and word families.
Reading comprehension exercises.
The main events in a story.
A famous author, highlighting where they're from, key points in their lives, and other biographical information.
The evolution of a character from a story.
Process to serve as a writing guide.
The definitions and differences between pathos, logos, and ethos.
World Languages:
Regular verb conjugations.
Sentence structure.
New vocabulary related to the family, animals, food, or other topics currently being taught.
Locations where the language is spoken.
Creative Arts
Learning a new dance, to serve as a guide.
Different techniques in art.
Stories about famous artists.
A genre of music, such as jazz.
How to play certain instruments, such as violin or guitar.
How to keep the beat and rhythm.
Additional Video Tutorials and Articles:
Have you used Edpuzzle in your classroom or for professional learning? Share your activities in the comments below!