In Part 1 of this blog, we introduced you to NowComment and discussed the application of both the SAMR Model and the Triple E Framework to help you integrate NowComment into your instruction. Today's post offers detailed instructions about how to use this tool and also shares classroom use ideas by subject.
How to Use NowComment:
To start using NowComment, click to sign up using your Google account, Facebook, or an email address.
When you register, you will be required to share your email, first name, and last name. The site will also prompt you to create a password.
From here, you have the option to create a group. You may want to create separate groups for each class. You can also create a Group Collection if you want to have students all comment on the same document or website without creating an account. This is a great option for younger students as well, since they will likely not have access to email to create their own accounts. Even elementary students can click on the URL (shared by the teacher) to collaborate.
Once you're ready to upload, you have many file type options. Click on what you would like to upload.
The Text I'll Write Now button allows you to type whatever you want to share. This is a great way for students to connect, collaborate, and communicate as they create text.
NowComment has many neat features. First and foremost, they offer free accounts. While you can share your document with the entire Internet, we encourage educators to keep viewing limited to those with the direct URL. NowComment is also time-efficient since you can tie your comments to specific areas of the document or image, reducing time spent searching. Think of the power of being able to ask and answer questions and have multiple conversations right on a website! This tool is simple to use and offers many features that allow you to moderate the comments, create assignments, and manage large groups collaborating on the same item.
Although you're able to create your own group (as shown above), NowComment also has existing study groups organized around United Nations Sustainable Development Goals. You can simply click to join one of these groups and add to the conversation!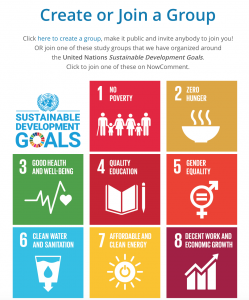 Here is an example of students collaborating on a document. When you click on the paragraph, you instantly see the comments on the right side related to that part of the text. Notice that you can choose a 2-Pane or Combined view. You can also view all comments or just summaries.
Here is an additional example that shows comments related to a link to a short audiobook.
If you would like to share a document with your class that is already provided on the site, simply click Invite. You can invite your entire group or individuals to comment.
Another neat feature is the color-coded highlighting of comments. You can use these to indicate when something is important, unclear, a question, and more. Simply click on the highlighting icon and make your choice.
If you aren't sure what you want to share with your students, we suggest that you check out the items on the homepage of NowComment to get your wheels spinning and see the many possibilities for this cool tool! 
Classroom Use Ideas:
NowComment allows teachers the unique ability to share documents, images, websites, and other files with their students. Teachers can share items related to current units of study, team-building activities, and more for collaboration.
We would be remiss not to mention that older students (possessing an email account to register) could also share items with peers for collaboration and feedback. Although the classroom use ideas we suggest are ideal for a teacher to share with the class, the same topics could be shared among students.
Use NowComment to collaborate on…
Social Studies:
Images from a famous battle during the Civil War.
Current events articles.
Images or even virtual tours of famous landmarks.
Articles about the use of the atomic bomb in World War II.
A website explaining the Electoral College.
A link to a video about how laws are passed.
A biography PDF about a civil rights leader.
Science:
A video explaining the digestive system.
A document used during a science lab (or a PDF of completed lab notes).
A site teaching about astronomy, stars, and the phases of the moon.
Images of simple machines.
Virtual animal dissections.
Videos about weather phenomena.
A Write Your Own Text about the Engineering Design Process (and the steps).
A website about genetics.
Math:
A PDF showing the steps to solve a difficult word problem.
A website showing how to add improper fractions or multiple decimals.
A video showing how to solve algebraic equations.
A website explaining the difference between the mean, mode, and median.
Teacher notes on a document showing how to find area and perimeter.
Student examples on Word documents about finances and monthly budgeting.
Language Arts:
Student examples of various types of poetry.
A shared document about literature taught in class to assess reading comprehension.
A Write Your Own Text about the climax of a story.
A website about a famous author, highlighting where they're from, key points in their lives, and other biographical information.
A Write Your Own Text highlighting the evolution of a character in a story.
A short audiobook related to character development.
World Languages:
Video clips of students' introductions in the new language.
Articles related to the culture of the language.
Short videos sharing how to pronounce words or introducing new vocabulary words.
Creative Arts:
A video sharing a new dance.
A website displaying specific forms of art.
A video showing how to play certain instruments. Or, better yet, a video of your students playing in the band or orchestra so they can critique their own performance.
Additional Video Tutorials and Articles:
Have you used NowComment in your classroom or for professional learning? Share your activities in the comments below!