Wikipedia became the world's largest online encyclopedia on September 9, 2007 but how reliable is it and what do students need to know before using it? This is a question that falls under the wide umbrella of media literacy. In 2020, with the proliferation of fake news in the wake of the pandemic, the importance of the upcoming election, and the increasing reliance on the internet/ social media for news, the concept of media literacy is more important than ever.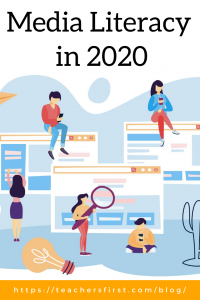 Media literacy resources for teachers are available from a wide variety of organizations for every age/ grade level and in different languages. A key to choosing what is right for your class is to make sure it is relevant and engaging! This may mean tailoring the lesson to your students' grade level or current events, gamifying the experience, using a specific tool, or just finding a way to make it fun and interesting.
Whether you are looking for resources for teaching a variety of media literacy skills or want to focus on news literacy, there are many resources available. Checkology is an all-inclusive online platform for teaching media literacy in grades 5-12 that contains everything from lesson plans to live discussions with journalists and the integration of real-world news/information. Teaching Tolerance offers lessons for all grades from K-2, 3-5, 6-8, and 9-12. MediaSmarts offers a variety of videos with lesson plans and games at a variety of age/grade levels. Try bringing global media literacy to your students with the new My World Media Literacy program from the BBC and Microsoft. Scholastic, PBS Learning Media, and the Newseum also offer engaging and relevant media literacy activities for your classroom.
Whatever materials you choose to use, make 2020 the year you incorporate media literacy into your classroom! Remember to check out the TeachersFirst database of resources and TeachersFirst's Infusing Technology blog for more ideas on how to educate your students about media literacy.