Each November, Americans celebrate Native American Heritage Month. It is a time to celebrate the culture and heritage along with the contributions of Native people. In addition, it is an opportunity to raise awareness of the real stories of Native Americans, not caricatures and stereotypes.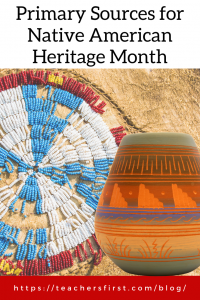 A quick search of the TeachersFirst blog page finds many articles devoted to using primary sources. Using primary sources provides students with the opportunity to develop critical thinking skills, make knowledgeable inferences, and view history through a focused lens. These skills are vital to studying and understanding Native American culture.
The Library of Congress Native American Heritage Month site (reviewed here) is an excellent starting point to find a variety of different lessons. It includes a comprehensive Teacher's Guide that introduces students to the history and cultures of some of the indigenous cultures found in America. Topics found in the guide include Teaching Indigenous Perspectives, Place-Based Histories, Preservation of Indigenous Cultures, and more. The Classroom Lessons include ideas for grades K-12.
In addition to the Teacher's Guide, this site shares a lengthy list of primary sources provided by The Library of Congress, the National Endowment for Humanities, the National Gallery of Art, and other national institutions. These include links to many lessons focused on Native American history and culture.
Help students examine and analyze information using focused tools shared by the Library of Congress and the National Archives. The printable activity forms shared include organizers and guidelines for students to document and record their observations. In addition, worksheets from the National Archives provide choices within categories that focus on different types of documents, including maps, cartoons, written documents, and others.
As part of Your Native American Heritage observations, consider focusing on a different type of primary source each week. Provide students an electronic version of the document along with an observation form to include as part of a computer center activity or complete at home. Use Google Slides or PowerPoint to create your activity for easy access by students. At the end of the month, ask students to share their learning using Flipgrid (reviewed here). Create your own prompt or use one of the many topics available in the Discovery Library. For example, this prompt from Genially (reviewed here) asks students to discuss an interactive image. Another example shared by Amplifier Educator focuses on student discussions about Native American leaders and their contributions to society.
Another option is to create a learning activity for students to complete throughout the month. Blendspace (reviewed here) has tools for creating and assigning lessons that include multimedia and giving quizzes. Search the Lessons Library to find tasks to copy and edit to fit your needs, or build your lessons using your materials. If you use a Flipgrid topic, insert the link into your Blendspace lesson for students to access as part of your learning unit.
Learning to analyze and interpret information from primary sources is a valuable skill to teach all learners. Consider taking advantage of the many free resources available for use in all classrooms to make your observations of Native American Heritage Month meaningful for your students. Have a favorite resource or lesson that incorporates primary sources to raise awareness of the contributions of Native American people? Please share it with us in the comments.