Every month of the school year is essential to a student's development. The month of March is a time to celebrate the fantastic middle-level educators that empower students to reach their full potential.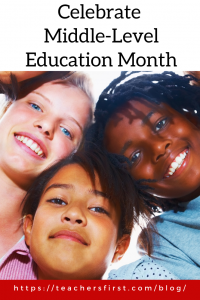 The middle-level grades present many challenges and are a particular time in a student's development. Physical, intellectual, and emotional developments underlie the unique experiences middle-level students encounter. Early adolescents also bring a different energy and enthusiasm to the school day. As a middle-level educator for almost 20 years, people often ask me, "How do you do it? I could never teach the middle grades." My reply is always, "It's an amazing experience, and I try to match the energy and enthusiasm of my students!" Middle-level students are special, and this period contains some of the most critical years of a student's educational journey. Listed below are ideas and resources for recognizing middle-level educators.
Social Media
AMLE (Association for Middle-Level Education) is the only international organization for middle school educators. Explore AMLE content and social media resources. Use Microsoft Sway (reviewed here) to create a slideshow to amplify your favorite middle-level administrators, educators, and school employees. Include the hashtags #MLEM on your posts, and make sure to follow @AMLE on Twitter. 
Middle-Level Advocacy
Establishing a positive school climate is critical for all students, but especially for our middle-level students. Highlight students on Middle-Level Monday to motivate and celebrate student success, or celebrate the energy and enthusiasm middle-level educators bring to engage their students each day. Check out AMLE's Middle-Level Education Month resources to inform your school community about students ages 10 to 15. Use Canva (reviewed here) to create infographics, posters, and presentations. 
Daily Dedications
It's essential to structure a climate that helps middle school students through this developmentally complex time in their lives. Foster social and emotional development through a daily dedication. Invite students and teachers to begin classes with a short dedication to an influential person in their life. Students and teachers may choose anyone, real or fictional, that inspires them. Read more about daily dedications on Edutopia. Use Adobe Creative Cloud (reviewed here) or Google Slides (reviewed here) to create a dedication presentation. 
Middle-Level Resources
Finding age-appropriate middle-level resources to help focus and engage our students is a challenge. Middle Web is a fantastic resource for middle-level educators that includes book reviews, interviews, blog posts, and themed resource collections. All of our resources on TeachersFirst include grade levels to help you find appropriate middle-level resources (don't miss our Middle School Do's and Don'ts!). PBS Learning Media (reviewed here) also has a section with games, videos, and activities for middle-level educators
Use the month of March not only to celebrate middle-level educators, but as an opportunity to provide families and your school community with strategies and resources to enhance and empower middle-level educators. Adolescents and middle-level educators are unique, but that's what makes them special. How do you celebrate Middle-Level Education Month? We'd love to hear your ideas in the comments below!