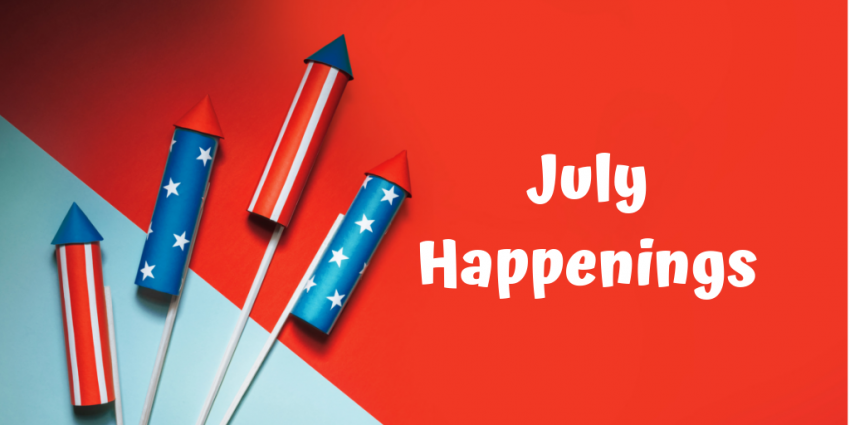 Elevate Your Edtech Know-How
Grab some lemonade, find the perfect spot in the shade, and join us for free, quality, virtual professional learning this summer. You'll find virtual workshops, twitter chats, and blog posts to help you prepare for next year!
| | |
| --- | --- |
| OK2Ask® is free, quality, virtual learning for K12 educators. Our summer series starts July 10th with a TeachersFirst-focused session. On July 11th participate in Google Mania to learn about Google Keep, Google Maps, Google Extensions, and more. | Find inspiration and expand your edtech knowledge with recent blog posts about Emoji Day as well as tech tools and ideas to teach students how to use social media safely, how to be savvy consumers of advertising, and more. |
Historical Events in July
From the Battle of Gettysburg to the signing of the Civil Rights Act, July is a month filled with historical observances.
| | |
| --- | --- |
| Engage your social studies class with this interactive infographic that shares the numbers of the Battle of Gettysburg: weapons, casualties, demographics, geography, weather, and more. The For Teachers area includes standards and classroom use ideas. | President Johnson signed the Civil Rights Act on July 2, 1964. In tribute, this week we share a Special Topics collection filled with resources related to Civil Rights. Find tools to share with your class, research information, and lots of activities. |
More Edtech for Your Toolbox
Twitter as PD? You bet! Come to our July 18th Twitter chat on differentiated instruction in a 1:1 environment. Plus, find tech tools and resources for National Make a Difference for Children Month and Amelia Earhart Day -- both in July. And, please share your thoughts in our weekly poll about teaching Civil Rights.
Twitter Chat: July 18th at 8 PM ET

Give Twitter chats a try this summer! Join us on Thursday, July 18th at 8pm ET to discuss the benefits and challenges of teaching in a 1:1 environment and to explore ways to integrate technology into the classroom. Use the hashtag #OK2Ask.
July is Make a Difference for Children Month

Based on Shel Silverstein's The Giving Tree, this lesson allows students at all grade levels to reflect on ways to help others. Although holiday in focus, it can be used year-round, including in July as a way to honor Make a Difference for Children Month.
Amelia Earhart Day: July 24th

Just in time for Amelia Earhart Day (July 24th), read about the many ways that people have used flying machines and the many creatures that fly in this CurriConnects collection of books for all ages related to flight. Share this list on your class site.
Share Your Thoughts

In this week's poll we ask you: What grade does your school begin to teach about the history of Civil Rights? Does your school begin in grades K-2, 3-5, or 6-8?
6 More Sections of TeachersFirst to Explore
Delve into these additional content areas filled with professional learning and classroom resources. 
Brought to You by TeachersFirst
Connect with us
Twitter | Facebook
Editorial
Contact the editor
About TeachersFirst
TeachersFirst is a collection of curated, classroom-ready content and ideas — including teacher-authored reviews of thousands of web resources. Built-in guidance from seasoned professionals makes effective classroom technology use trouble-free. TeachersFirst is made available free to K12 teachers by The Source for Learning, Inc., a nonprofit that has been providing educational resources for more than 40 years.