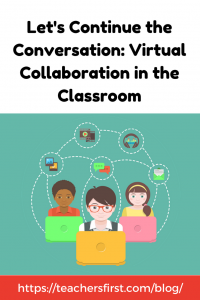 If you caught last Thursday's bi-weekly OK2Ask Twitter Chat (see the archive here), you know we chatted all things virtual collaboration.  Let's delve a little deeper into this topic and continue the conversation.
Regardless if you're a new or seasoned educator, you've surely been bombarded with the importance of a collaborative learning space.  Collaboration is key to building students' 21st-century learning skills and of course it's a part of the 4Cs (collaboration, creativity, communication, and critical thinking).  However, now in the digital age, we see collaboration morphing into virtual collaboration.  What's the difference you ask?  It's simple… virtual collaboration is working with someone while integrating technology.  Team members are virtual team members.  While I believe a balance of the two is ideal, today's post is going to center around the benefits of a virtually collaborative classroom.
If you're beginning this journey, or even just looking for new and fresh ideas, I like the goal shared in an Edutopia article to connect physical and virtual learning spaces.
If this goal is met, teaching and learning will truly be taken to the next level.  Let's aim for real-world connections, global learning, and authentic learning opportunities, all while being aligned to the standards and curriculum.  Easier said than done, I know, but here are a few things to consider:
Reflect back on the impact of the social learning theory… relationships are key, and we learn from our interactions with each other.
Ask yourself, "am I promoting my students' social and emotional development and equipping them with the 21st-century learning skills necessary for their futures"?
Student collaboration is natural and technology is a logical and generationally relevant way to facilitate it. Why not make learning meaningful to your digital age student and who knows—maybe the conversation will continue outside of the classroom.
Tracking communication and providing feedback can be easier and quicker—let's work smarter, not harder, right?
Why not create global education opportunities? Let's take learning across the world and open our students' minds and horizons up to different cultures, content, and experiences.
So, what do you think?  How do you create a virtually collaborative classroom?  I'd love to hear your thoughts!