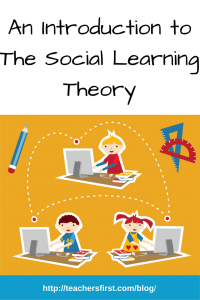 Have you heard of the Social Learning Theory?  Don't worry, I'm not going to take you back to the intro to education classes you sat through in your college days and bore you with theoretical jargon.  Rather, I am going to introduce you to a theory that I feel we must embrace as educators in the 21st century.
In the digital age of education, it is critical to begin to understand this theory and accompanying teaching methods.  To me, the premise behind social learning is intuitive—we want to stay in contact with each other; we learn by modeling; we want to share; and we enjoy informal learning.  Isn't this the truth?!  As I reflect on the way my own young children learn, I couldn't agree more.  The days of learning by reading a textbook are gone.  This is the age of YouTube, modeling, and social interaction, all while in a casual and comfortable learning environment.  My 5-year-old actually asked me several months ago how I learned things in the "olden days", before there were YouTube videos.  Isn't that crazy?!  While it may be crazy, it is reality.  After I picked my jaw up from the kitchen floor, I realized that the modern student is engrossed in the digital age and we should build upon this rather than fear it.  The great part is that students are eager to engage in exploratory activities and the possibilities for personalized learning are endless.
The key to social learning is understanding the basic principles and providing the right circumstances which can facilitate putting theory into practice.  As I continue on as a TeachersFirst blogger, I will delve into more of the nitty gritty and how to link the theory to the learning, but first why don't you brush up on the concept?
Learn more about The Social Learning Theory:
How the Social Learning Theory makes a case for Social Learning