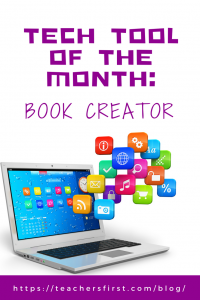 April brings us many celebrations related to writing: National Poetry Month, National Library Week, Poem in Your Pocket Day, World Book and Copyright Day, and more. What better time to feature a cool writing tool. The tech tool of the month is Book Creator; a tool for all ages to create beautiful digital stories!
Book Creator is an easy-to-use tool that will create multimedia digital books. The site guides you as you add the text, images, video, and audio for your story. With over 1,000,000 digital stories created with Book Creator each month, this tool has proven itself useful. Learn more about Book Creator from this introductory video.
Please note that Book Creator only works with Google Chrome or as an app on the iPad. Also, the free plan allows you to create and store 40 books in one library. After publishing your story on the site, you can access the story on any device.
Unleash your students' creativity as they combine their audio, text, images, and video to create many digital projects. Create books together or assign cooperative learning groups to work alongside each other. You can always combine various books later into one group book, or even an entire class book. Teachers could also use this tool to create their own personalized books for their classrooms. Students could create poetry books (perfect for April and Poetry Month). Have students write 'About Me" books at the beginning of the school year. Culminate a science unit by having students create a report using Book Creator. Students could use this tool when presenting research projects or as a book review, rather than a traditional book report. The possibilities are limitless. Find even more ideas in our TeachersFirst review of Book Creator. What can you think to create?
While reviewing this tool, I was excited to learn (and share) that there is a FREE webinar planned for Getting Started with Book Creator for Chrome. Join the webinar on May 17th. Learn more details here.