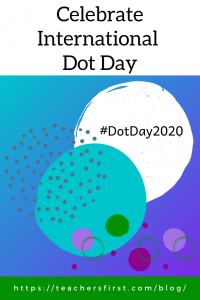 International Dot Day began in 2009 when educator Terry Shay introduced Peter H. Reynold's book, The Dot, to his classroom. The book shares the story of a teacher who builds confidence and courage in a frustrated art student by having her start with a single dot on a piece of paper. If you aren't familiar with The Dot, watch this YouTube video to hear the story of Vashti and her journey to becoming a confident artist who encourages others to explore their artistic talent. Each year on September 15, millions of people worldwide participate in a global celebration of the character traits of courage, collaboration, and creativity.
Why should I get involved?
International Dot Day provides excellent opportunities to celebrate every student's uniqueness while encouraging courage and creativity. Because this day comes early in the school year, it's also the perfect time to build your classroom community and teach students how to build courage through small steps.
How can I celebrate (in person or virtually)?
International Dot Day (reviewed here) – This is the official site for International Dot Day. Begin with the Get Started! section to find resources that include an area to sign up for a free educator's handbook, personalize and print a certificate of participation, and download posters from a large selection of languages.
Dot Day Pay it Forward – Copy and use this Flipgrid (reviewed here) topic and ask students to share ways they can "pay it forward" through their talents.
Dot Day 2018 Hyperdoc – The Flipgrid topic mentioned above includes this document which consists of many ideas for celebrating International Dot Day, including listening to "The Dot Song", suggestions for creating a video featuring the message from The Dot, and exploration activities to learn more about Peter H. Reynolds.
The Dot Breakout Room – Breakout rooms are all the rage! Follow the directions and download the materials to create a breakout room activity. Students unlock all of the locks to break out of the escape room to find a note and bookmark from author Peter H. Reynolds.
Dot Day coloring page – This color page combines coloring with technology and is a fascinating activity for younger students. Download the Quiver app and find the Dot Day coloring page. After students complete their drawings, use the app to bring the dots to life in a 3D, augmented reality animation!
Do you need more ideas?
Follow #DotDay2020 on Twitter.
Ask students to wear clothing with lots of dots, then share images on your class page or in a class book made with Book Creator (reviewed here) that features all of your Dot Day activities. Don't have clothing with dots? I bet you and your students have ideas on how to fix that problem!
Are you required to wear a mask for in-person classes? Try to find a mask with dots, then share a picture a couple of days before September 15 to see if students can guess the upcoming event. 
Send students on a Fliphunt to find dots around your school, in their home, or nature. Learn more about Fliphunts in this OK2Ask session archive.
Ask students to create their own Dot Day song. Use "The Dot Song" as inspiration and see where their creativity takes them!
Learn more about International Dot Day and see more suggestions to "unleash your creative side" on Wonderopolis's (reviewed here) Dot Day page.
How will you celebrate?
With so much uncertainty in the world, International Dot Day is an easy way to deliver a positive message of encouragement and celebration of creativity. What will you do to celebrate Dot Day? Share some encouragement with our readers in the comments below!