Computer Science Education Week is the perfect time to share an extremely cool tech tool called the BBC micro:bit. In this blog, I am going to discuss what micro:bit is and share Microsoft's MakeCode for micro:bit. The BBC micro:bit is a small, but mighty, handheld and programmable micro-computer. Read all about it's features here. It can be used to create robots, code games, play virtual instruments, and much more. You can code in Javascript, Python, Scratch, Blocks, and more; no additional software is required. This small device does have a small cost. 
If you are looking for a free option, try the free Microsoft website and app, Microsoft MakeCode micro:bit. Both allow you to try out a virtual micro-bit with the built-in simulator. The Microsoft MakeCode Micro:bit includes tutorials, games, music, and more. This is a great place to go if you want to introduce your students to coding for free. You will also find countless ready to go activities for all ages. One of the best features are the tutorials teaching you what certain terms mean and how to use coding in your class. Topics range from Intro to CS Online to Learn all about Micro:bit to Block to JavaScript and many others. 
Applying the Triple E Framework
The Triple E Framework, created by Dr. Liz Kolb, is built on the belief that "effective technology integration begins with good instructional strategies and not fancy tools." Dr. Kolb wrote a book on the topic: Learning First, Technology Second. Technology can be used to Engage in learning goals, Enhance learning goals, or Extend learning goals. We can use this framework to decipher why we are using specific tools in the classroom. Here is a rubric we can use to evaluate Microsoft MakeCode micro:bit (and any others) using the Triple E Framework. Use the rubric as you decide if a tool is a good fit with your learning goals and why you should (or shouldn't) use the technology tool in the lesson. 
Engage in learning goals: The students are more focused on the task because they are engaged in the coding activities that allow them to create games, music, and more that represent the content learning goals (for example, playing virtual instruments in music class). This particular tool offers no badges or extras to distract from the process of learning.

Enhance learning goals: By using these coding tools/apps, students are able to share their project ideas and demonstrate a more sophisticated understanding of coding by creating their own original work. Students are using higher-order thinking skills to organize their activities, simulations, and games. Creativity, perseverance, and the engineering design process are all also required as they create their coding, continue to test out various ideas, and take the steps required in the engineering design process to arrive at their final goal – success at a game or simulation. If you aren't familiar with the engineering design process, check out

this simple descriptive video

. Share this video with students as they begin coding and using the engineering design process.  

Extend learning goals: Dr. Kolb describes extended learning as an opportunity for students to connect and collaborate outside of the regular school day. It is also described as a bridge between the school day and real-life experiences. The third point of extending learning is allowing students to use everyday skills. This tool does allow students to connect and collaborate by working together to create the programming and coding. Working in small groups would be a very purposeful choice, as fewer devices would be required and students could help each other through the steps of the engineering design process. Creating code allows students to build skills that they will use in their everyday lives, outside of the classroom environment. We are preparing our students for a world that doesn't exist yet, however many jobs already require coding. If we teach students the basics of coding now, they will have a greater understanding in the future. Coding will also help to prepare students for learning beyond the classroom, as they will need to use digital tools, coding, and have strong perseverance in their future classes, employment, and personal life.
SAMR Connection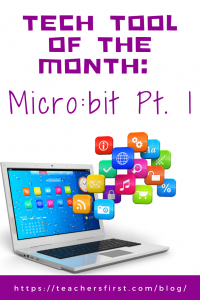 The SAMR Model, by Dr. Ruben Puentedura, suggests that technology implementation has four levels. We can use this model as a guideline to analyze how we are incorporating technology tools in the classroom. Depending on how you are using the micro:bit or virtual micro:bit simulator, it could be connected to various levels on the SAMR Model. 
Don't miss Part 2 of the Tech Tool of the Month: Micro:bit. We will discuss how to use the tool and provide classroom use ideas. In the meantime, let us know in the comment section below how you have used the Micro:bit in your education setting.