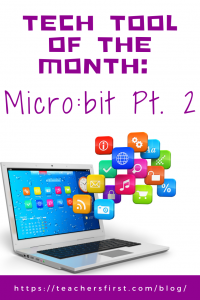 In Part 1 of this blog, you were introduced to the BBC micro:bit and the Microsoft MakeCode virtual micro:bit simulator. The BBC micro:bit is a small, but mighty, handheld and programmable micro-computer. It can be used to create robots, code games, play virtual instruments and much more. If you are looking for a free option, try the free Microsoft App, Microsoft MakeCode. The app allows you to try out a virtual micro:bit with the built-in simulator. You will also find countless ready to go activities for all ages. One of the best features of the Microsoft App is the tutorials teaching you what certain terms mean and how to use coding in your class. Topics range from Intro to CS Online to Learn all about Micro:bit to Block to JavaScript and many others. The Microsoft MakeCode Micro:bit app includes tutorials, games, music, and more. 
How to Use Micro:bit and Microsoft MakeCode:
Let's begin with the micro:bit. This is a tiny, programmable computer that is designed for education and to make students more engaged (and to have some fun). 
As you arrive at the site, you can choose the I'm a Teacher option or I've got my micro:bit to learn more. The tutorials here are extensive, so if you need help – be sure to check it out!
Let's begin with exploring the I'm a Teacher option. The site lists many subject areas to explore. There is also an introductory video to learn more about the basics. Don't miss the lesson plans! 
Another great area to explore is the Curriculum. At the time of this post, there were 12 offerings. Here is a small sampling. Click to Visit the Curriculum.
Now let's talk about the other option on the site, I've Got My micro:bit. The first page of that will ask you to choose your type of device: Windows, macOS, Linux, or Mobile/Tablet. Each quickstart offers step-by-step instructions about how to get started.
Be sure to click on the Features option to learn more about this small device. This is especially helpful if you have never used this tool. This would also be a good link to share with your students. This image shows what the device looks like and where everything is located. The Features option also shares information about: LEDs, Light Sensors, Buttons, Pins, Temperature Sensor, Compass, Accelerometer, Radio, Bluetooth, USB Interface and additional technical information.   
Now, let's talk about the Microsoft MakeCode, your FREE option. When you arrive at the main MakeCode page, click to go to micro:bit.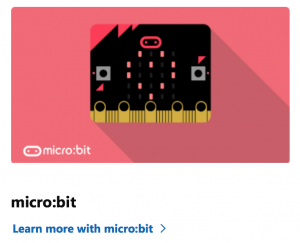 The tutorials offer a great place to start. The Flashing Heart is even listed as New? Start Here! The tutorials are great for teachers to view to learn more. They are also the perfect link to share with students before starting a new coding project.

The tutorial for the Flashing Heart offers many clickable and interactive instructions. You can download the complete guide for you (or your students). There is also a video to view, specific to this activity.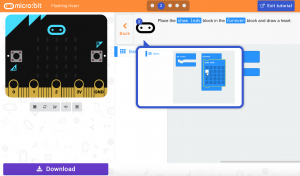 Activities and topics abound at this site. There is so much to explore. One area that is sure to engage your students is the GAMES! Check out the many offerings. Here are just a few.
The topics of Fashion and Music offer a new perspective on coding. Learn how to make a watch, Duct tape wallet, banana keyboard and more. Some of these activities would work well in music class, while others are perfect for science and inventions.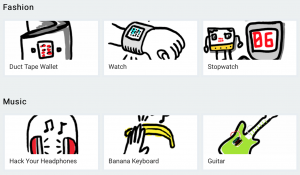 Additional topics and tutorials to explore include Science, Toys, Tools, Turtles, Blocks to JavaScript, and others. If coding is fairly new to you, start with the Courses, Behind the MakeCode Hardware, and Coding Cards to find some basic introductory information and videos and tutorials to help you to understand the more complicated aspects of the site.
Classroom Use Ideas:
MakeCode and micro:bit offer an engaging way to use block coding and to be introduced to computer programming. The actual micro:bit is very diverse and can be used for a number of projects, as shared above. It also offers a great way for students to learn about game design by using an external device with online programs. Coding can be integrated across various subject areas. Check out this eclectic (and thorough) mix of lesson plans by Micro:bit. 
Social Studies:
Science:
Math:
Language Arts:
Creative Arts and World Languages:
Additional Tutorial Videos and Sites:
Have you used the micro:bit in your classroom? Share in the comments what types of activities you have done.