December 15 is Bill of Rights Day! Students should be aware of what the Bill of Rights is and how it applies to their lives. What better way to make that happen than to celebrate this day in your classroom?!
There are many resources available to teachers to celebrate this day. The Bill of Rights is one of the foundational documents of the American way of life. What would life look like in the United States without it? Students can play "Life Without the Bill of Rights?" from the Bill of Rights Institute to find out! In addition to the game, the institute has a wealth of resources for teachers from lesson plans, videos, an analysis of the text with a free ebook, and even a song.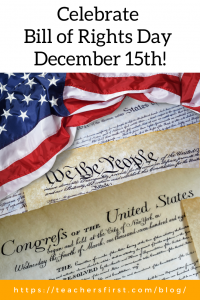 Many government agencies make resources available for teachers and families. The National Archives celebrates this day with a wealth of resources. They published Putting the Bill of Rights to the Test: A Primary Source-Based Workbook for students to explore the core concepts and how they have been tested throughout history. Through a partnership with Google, students can explore the National Archives exhibit Amending America: Why a Bill of Rights?. The Library of Congress has published an entire research guide entitled "Bill of Rights: Primary Documents in American History" which includes a variety of digital and print resources. Their online exhibit Creating the United States includes a page all about the history of creating the Bill of Rights. They have many lesson plans, including one entitled "The Bill of Rights: Debating the Amendments" as well as a page for younger students from the America's Story feature all about the Bill of Rights. Other government agencies with resources about the Bill of Rights are the U.S. Citizenship and Immigration Services and the U.S. Census Bureau. The Federal Courts even held a live online event for families on December 2nd. The worksheet for the game that was played can be used with students and is available here. They have also published a video showing employees of the court reflecting on their guaranteed freedoms by answering the question, "What does the Bill of Rights mean to you?".
Many other resources exist for teachers to bring this day alive for students. The video below is an engaging look at the Bill of Rights for students.
Have students test their knowledge with this online quiz. The National Constitution Center, Teaching American History, and Read Write Think all have a variety of lesson plans and other resources for use in the classroom.
Make celebrating Bill of Rights Day in the classroom engaging and fun using a plentiful variety of online resources! As always, check out the TeachersFirst resources and blog posts for more ideas. Happy Bill of Rights Day!