In Part 1 of this blog, we introduced you to Duolingo and discussed the application of both the SAMR Model and the Triple E Framework to help you integrate Duolingo into your instruction. Today's post offers detailed instructions about how to use this tool and shares classroom use ideas by subject.
Duolingo:
If you want to use Duolingo for your own language learning, click Get Started when you arrive at the site to create your account. If you want to set up classroom accounts, scroll further down the main page.
If you want to create accounts for your students, scroll down to the Duolingo for Schools link.
Click on Login or Get Started (if you need to create a new account).

Duolingo for Schools allows teachers to track students' progress, what they've mastered, and what is yet to be learned in one convenient spot.

On the Duolingo for Schools page, you can register using an email, username, or your Google account.
Once you log in, click Create a Classroom. Add the name of your classroom, what language you want students to study, and which language your students speak.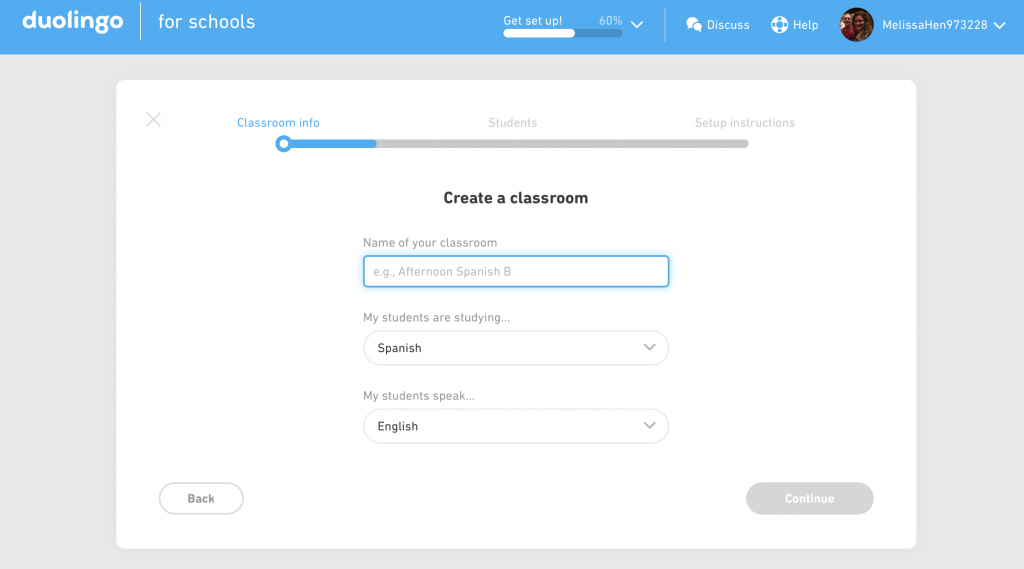 Add students' names (or use nicknames or ID numbers), then click Continue.
Now you can decide how you want to share your classroom with students. You can share a link (if your students have email access) or create accounts for your students with no email required.
If you choose to create accounts for your students, you simply click to download a PDF with setup instructions for your students to follow.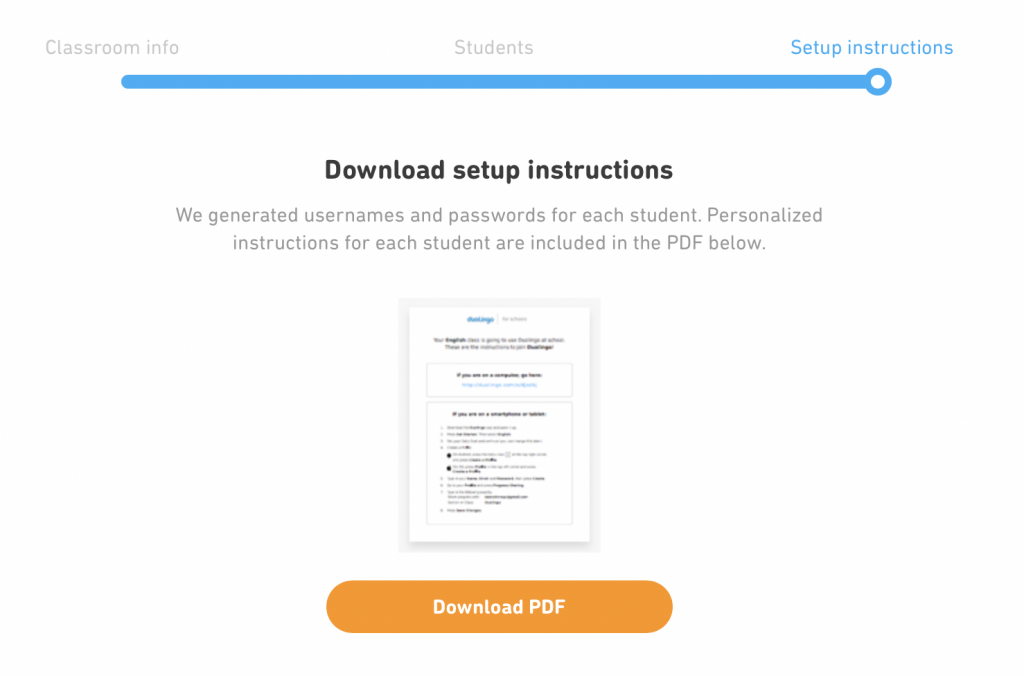 Here is an example of the setup cards that are created to help your students log in. Each student that you register receives their own login setup card to begin using Duolingo.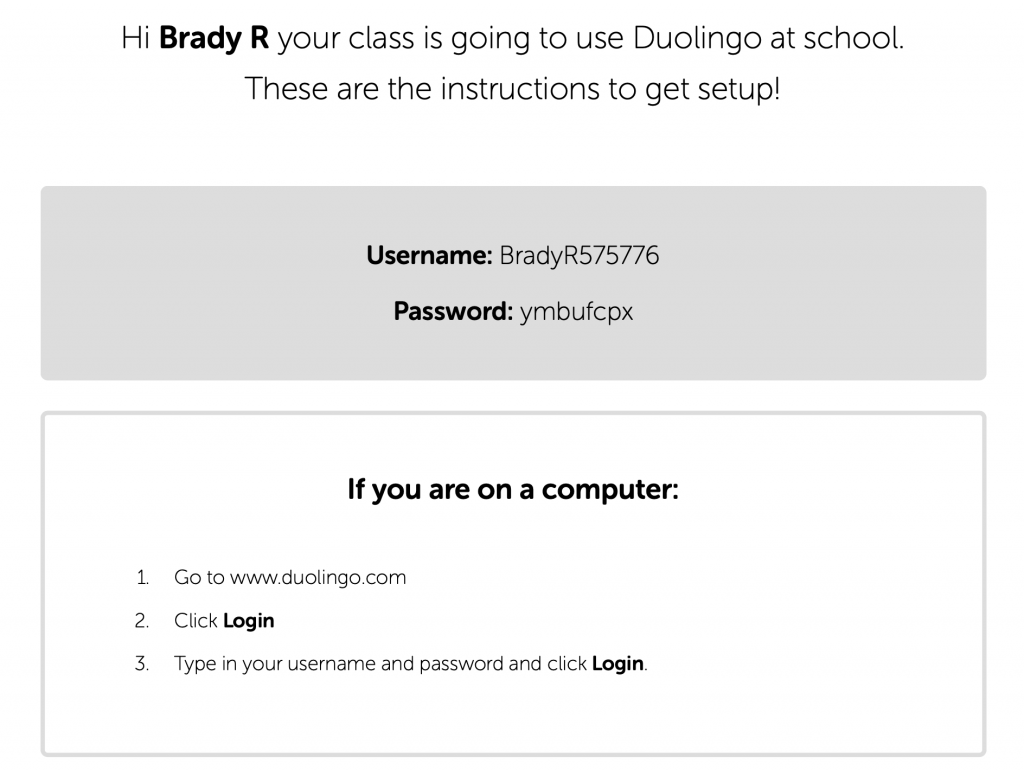 This is the teacher dashboard view from one of the created classrooms. You can see your students, make assignments, view the curriculum, and find additional activities. The colors next to the students' names indicate how many assignments have been completed (green), submitted late (yellow), or missed (red).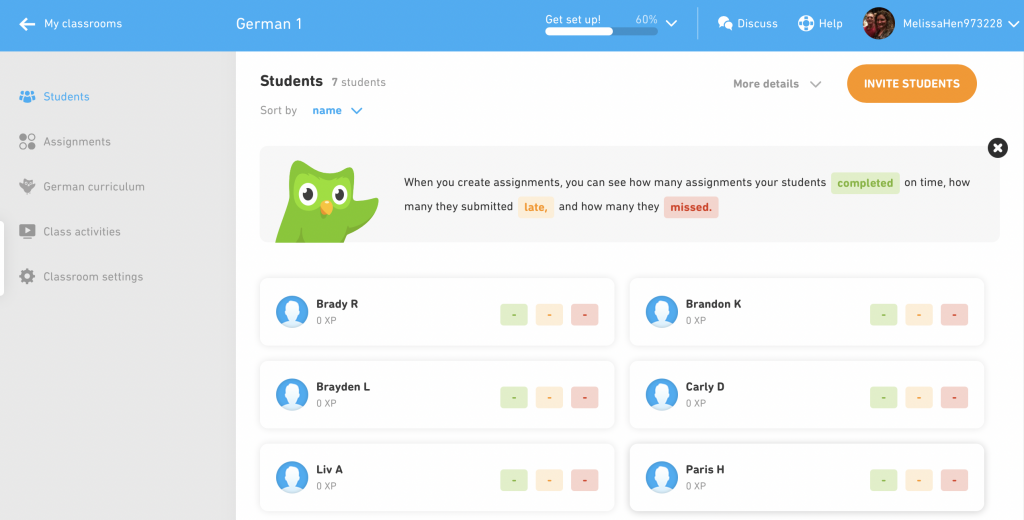 Scheduling an assignment is pretty simple. Click on the Assignments tab and select an assignment, start date, and end date.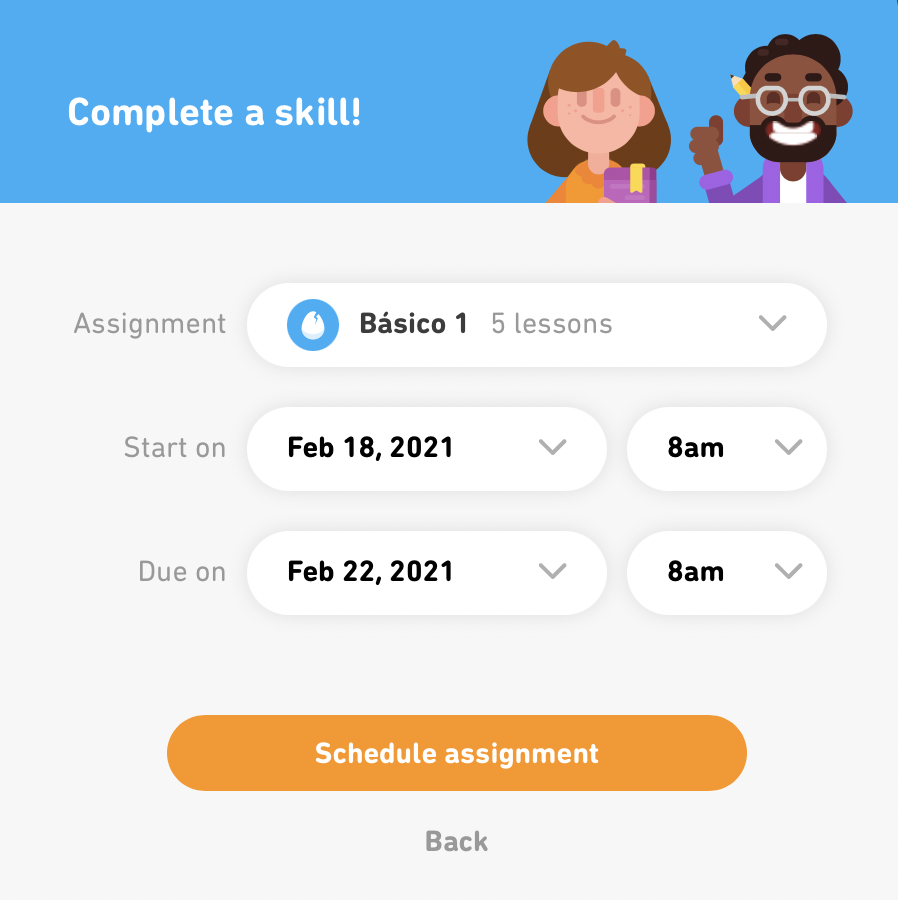 There are a variety of question types and activities included in the lessons. Here are a few of the questions that students may see (all include audio).
Here is another example of an activity. If you don't get the answer correct, you are shown (and hear the pronunciation of) the correct answer. Then you go back and try the question again.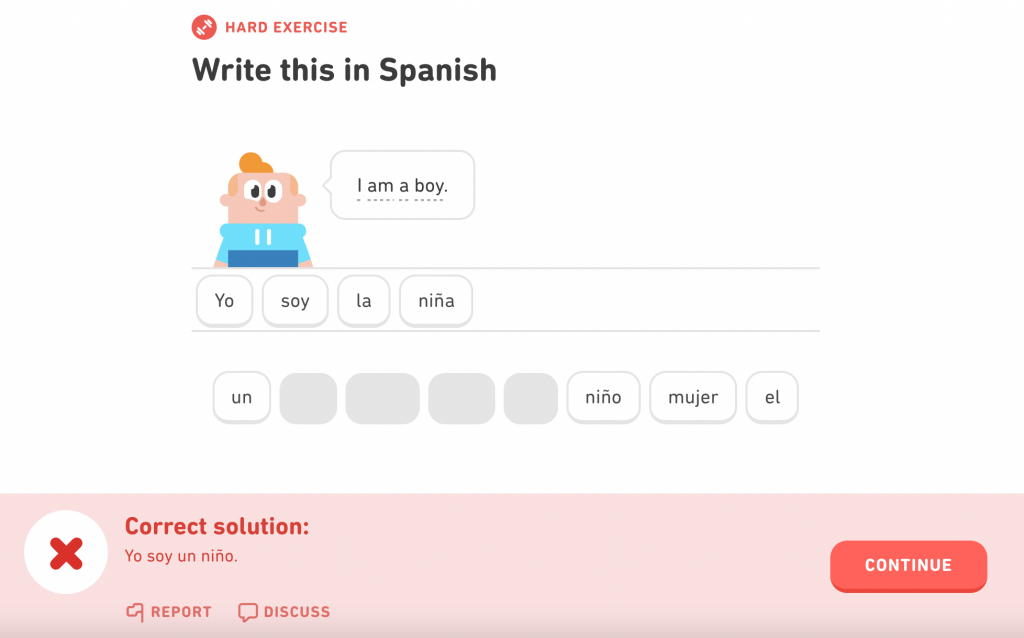 You can also look at the curriculum for the entire language by clicking the link on the left sidebar. View all skills taught for beginner, intermediate, and advanced learners.
Many of the lessons also include extra rewards or points to redeem for bonus items. This one allows students to freeze their streak, even if they miss a day of lessons.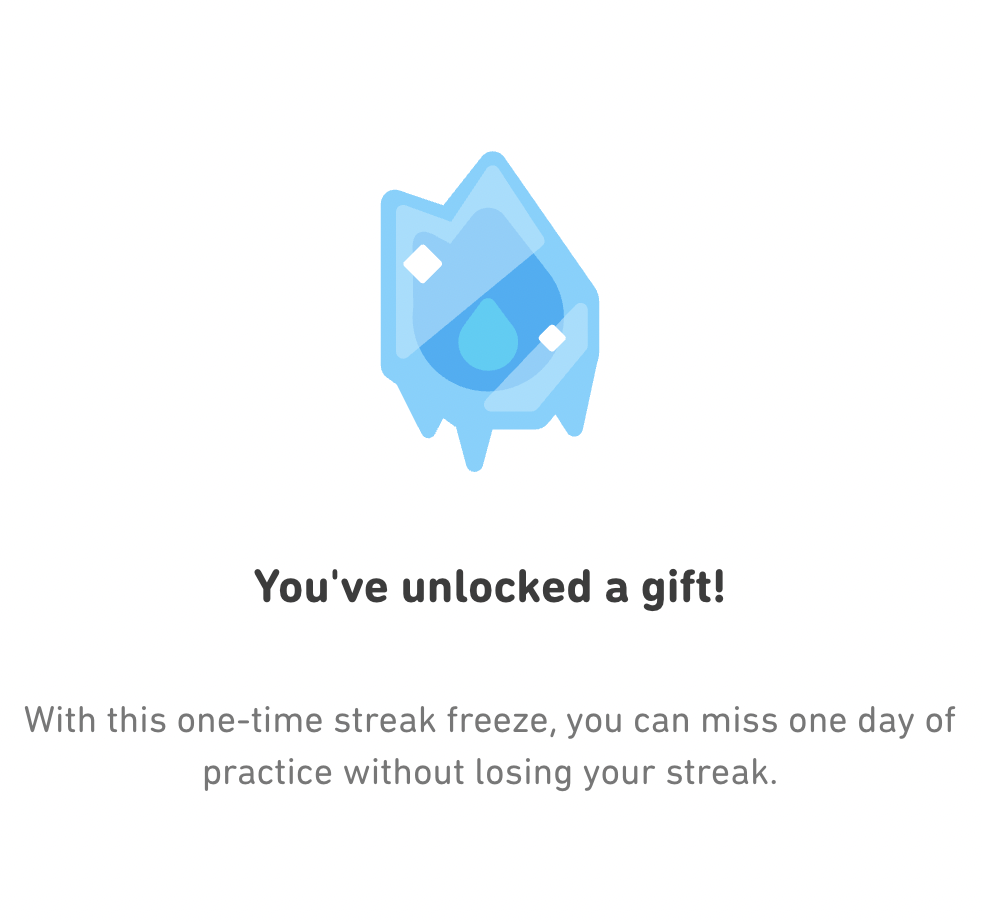 Classroom Use Ideas:
Duolingo offers educators an engaging option for blended and remote learning. Duolingo allows teachers to formatively assess students during all lessons and activities. The site also offers students instant feedback. Below, we've included several ideas of ways to integrate Duolingo into your lessons.
Emergent Readers (use English native speaking and learning English language settings):
Use the site to help young readers learn and hear audio of basic words.
Have students read the site together with a partner and complete the activities.
Share this link with students working remotely to practice language skills at home.
World Languages:
Offer the lessons as a supplemental assignment during your world language lessons.
Use Duolingo as a homework learning tool outside of the classroom. Assign students a specific number of lessons or activities to complete.
Allow students to hear the proper dialect of the languages offered on Duolingo.
Challenge your gifted students to learn a new language and share some basics with their peers.
Follow the link to the remote learning lesson suggestions. Find ways to engage students remotely using Duolingo.
Create a challenge in your world language class of who can earn the most points in a week (or month).
Learn regular verbs, basic vocabulary, and the structure of sentences.
Preview the full curriculum to find relevant assignments for your students' level.
Personalize learning by assigning certain lessons to students based on their personal progress.
ENL (English as a New Language):
Use this tool to help your ENL students learn English (using their native language to help).
Use Duolingo to provide extra practice for students to use at home (and even involve their families).
Explore the remote learning link to learn about ways to use this tool remotely with ENL students.
Differentiate learning by assigning certain lessons to students based on their personal needs.
Additional Video Tutorials and Articles:
Have you used Duolingo in your classroom or for professional learning? Share your activities in the comments below!