Duolingo is a device-agnostic tool that offers free online language learning classes. The site currently offers personalized lessons in thirty-seven languages, including Spanish, French, Japanese, Italian, Arabic, Dutch, Polish, Greek, Romanian, and Swahili. Duolingo uses game-based learning to scaffold material and teach languages in chunks of time or assigned lessons. The personalized learning creates differentiated programs for students of all levels and scaffolds the learning as they progress, repeating whatever they don't master. The instant feedback provides students (and teachers) with an easy way to track progress. The site offers reward coins that unlock new levels as students proceed. One neat feature of Duolingo is that you can choose both the native language and language that you wish to learn. This feature is especially helpful for those learning the English language, as they can use their native language to help them understand. Duolingo offers both audio and visual cues, which are helpful for multi-sensory learning.
Duolingo is not a new tool—it's a proven program for learning world languages. On their site, they say that "34 hours of Duolingo is equal to 1 university semester of a language course." Duolingo also has a specific program available to schools for free. Duolingo for Schools provides a dashboard that allows teachers to view all student results in one place. Our blog post will focus on this aspect of Duolingo, including the Duolingo Remote Learning Guide.
Applying the Triple E Framework
The Triple E Framework, created by Dr. Liz Kolb, is built on the belief that "effective technology integration begins with good instructional strategies and not fancy tools" (tripleeframework.com). Dr. Kolb wrote a book on the topic, Learning First, Technology Second (ISTE, 2017), that lays out the three main uses for technology in education: to Engage, Enhance, or Extend learning goals. We can use this framework to decipher why we are using specific tools in the classroom. Here is a rubric based on the Triple E Framework you can use to evaluate whether Duolingo (or any other technology) is a good fit with your learning goals and whether you should use Duolingo in your lesson.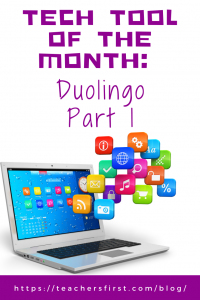 Engage in learning goals: When using Duolingo, students are more focused on the task because they are engaged in online activities as they work at their own pace. Students also take on the role of active learner, not just passively sitting there, but engaging in the lessons, questions, interactives, and videos. Duolingo helps motivate students to begin the learning process, as the material is presented in an organized and non-distracting manner.
Enhance learning goals: This tool enhances learning goals because it allows students to demonstrate a more sophisticated understanding of the content by answering questions, practicing speaking the language, and completing other interactives. Duolingo allows students to use technology to make connections that help them understand concepts and ideas presented in the world languages. Activities are not isolated in workbooks or stand-alone—the lessons build on each other and the learning is scaffolded. This demonstrates understanding better than just reading the text and puts students virtually into the lessons, which also share how to pronounce many words. All of this enhances students' learning and offers a more sophisticated and deeper understanding of world languages.
Extend learning goals: Dr. Kolb describes extended learning as an opportunity for students to learn, connect, and collaborate outside of the regular school day and as a bridge between the school day and real-life experiences. Duolingo would work well with flipped, blended, and remote learning lessons. We are preparing our students for a world that doesn't exist yet, but most jobs do require independent motivation and knowledge of technology. Duolingo allows students to practice skills they will use in the future, as many classes and careers will require students to use technology and to work through various steps of lessons or projects to completion.
SAMR Connection
The SAMR Model, by Dr. Ruben Puentedura, suggests that technology implementation has four levels. We can use this model as a guideline to analyze how we're using technology tools in the classroom. Depending on how you are using Duolingo, your lesson could be considered at the level of augmentation or modification.
Augmentation: At this level, technology acts as a direct substitute for a tool but also provides functional improvements. The lessons and activities in Duolingo can be at the augmentation level because the audio, animation, questions, and progression of the lessons are based on students' input—this is not something that could be done through a regular textbook or class lecture. These improvements allow students a deeper understanding of the content.
Modification: The level of Modification allows us to make (or modify) the activity into something more integrated with technology, meaning there is significant task redesign. Many functions of Duolingo would not be conceivable without technology, such as the immersive lessons, audio of the world languages, and personalized learning.
Don't miss Part 2 of the Tech Tool of the Month: Duolingo, where we'll discuss how to use the tool and introduce ways to use it in the classroom. In the meantime, let us know in the comment section below how you have used Duolingo in your education setting.