Week of September 23, 2020 | View the Map
Right click and SAVE AS
to download the Google Earth file for this episode

Use free Google Earth software
to OPEN it, using File> Open.

Find more tech info here.
---
Monday
Note to teachers: This episode will remain online for two weeks to offer you time to preview. The next episode will start Sunday, October 11, 2020, with new episodes weekly through the end of April 2021. Please note, that due to the Covid pandemic, Globetracker will be a virtual exploration this year! While Geo and Meri will still be learning about the 7 continents and many geography concepts, all travel will be done using virtual field trips, viewing maps, and other innovative virtual options. We encourage you and your students (grades 2-6) to join our mission. Learn more about the mission at the About tab. And now, let's begin the 2020-2021 Globetracker's Mission!


Monday
Today was another amazing Uncle GT day! Geo and I got an email from our Uncle Globetracker (we call him Uncle GT) in Washington, D.C. He always gives us such interesting gifts. But today's topped all of our expectations. Geo and I are being sent on a top-secret mission - and our first stop is NEW YORK CITY!! Our missions for Uncle GT are the most exciting trips ever! You are probably wondering if it is safe for us to travel, and Uncle GT agrees that it is not. But thanks to technology, we are still going to start this mission and find out what we can virtually.

We have a video call with Uncle GT first thing tomorrow morning. I wonder what the temperature is in New York? Today it was so hot out here (in Phoenix) - over 100 degrees Fahrenheit, a bit warmer than our typical fall weather. It was too unbearable to even go outside. Oh we forgot to share the email with you all. Holy Idaho! Take a look at the email and get ready to help us out!


Dear Geo and Meri,

How are my favorite niece and nephew? Your Uncle Globetracker has a new assignment for you two. If you are interested, I need you to "report" to New York City tomorrow morning. Of course I realize that you can't attend in person, but please plan to meet for a video call at 8am sharp! Our New York office will be on the video call also. I have a meeting and cannot join you, but I want you to be able to get started. Your instructions will be waiting in the virtual room. Click to read the purple file when you arrive. Don't worry, I will be in touch with more information tomorrow after you have had a chance to read about the case.

Please do not tell anyone about this mission (especially little Pandora - we know how hard it is for her to keep a secret). Don't worry; I have already talked to your high school and parents. The school has given you permission to study under my supervision for a while, especially since you are so far ahead with your work. I told them that this mission requires your full attention, even though you are searching virtually. The school is requiring you to keep a detailed blog of this unique journey. The blog must include pictures from the places that you learn about. So start keeping accurate records immediately.

The government really needs your help. Get ready for a unique adventure. I have included a map so you can see the distance you will be "traveling" and learn more about the location. More information will be in the purple folder.

Love,
Uncle GT


Holy Idaho! I can't wait to find out about this new adventure. I hope I can get some sleep tonight. Geo and I sat down and looked at the political map Uncle GT sent us that shows the states and major cities in North America. There are maps for all sorts of things - the climate, natural resources, physical maps that show mountains, rivers and lakes, and many other types of maps. Take a look at the map I linked below.

Geo and I finally found Phoenix and New York City on the map. Can you find the cities?

The first thing Geo and I wanted to figure out was the cardinal direction we would have traveled going from Phoenix to New York. When we look at the cities on the map, New York is above Phoenix. This map does not seem to show a compass rose to indicate where north is, so we will assume it is up. If someone is heading upwards on a map, they are typically heading north.

New York City is also to the right. If up is north, then heading to the right, would mean that you are traveling east. So that means that New York City is northeast of Phoenix.

Geo and I also wanted to figure out how far Phoenix is from New York City. Luckily, the map that Uncle GT sent to us also provides a map scale to measure the distance. The map scale shows the amount of map distance that represents 300-miles. Geo and I estimated that New York City is between 2,000 and 2,500 miles from Phoenix. Holy Idaho! That must be the farthest that we have traveled yet on any mission. I sure wish that we could actually be flying instead of just traveling virtually. But, we need to stay safe. Plus, hopefully, the next mission will take place at a time that is safe for us to travel.

New York City is located near the Atlantic Ocean. I am so excited because we have only ever seen the Pacific Ocean. The Atlantic Ocean is smaller than the Pacific, but I still can't wait to see the waves! I am going to look for some live cameras to show the waves since I can't see them in person.. I can still dream!

Now we just have to make sure our annoying little sister, Pandora, doesn't find out! Pandora is 5-years younger than we are and always causes trouble for us. One time she secretly followed us on a mission for Uncle GT! Of course, it was our fault (according to my parents) for allowing Pandora to read our journal. I don't know how to keep her from finding out if we are staying at home? We need your advice at the end of this post for how to trick her!

BTW- I read today that Phoenix is the 5th largest city in the USA. I have lived here over 16-years and I didn't know we lived in such a popular area. Holy Idaho! Geo just told me something else about Phoenix. Did you know that we live in the most populated state capital in the entire United States? Wow, we must have a ton of people living in Phoenix! I have posted some pictures of our home state (Arizona) into this journal.
-
Meri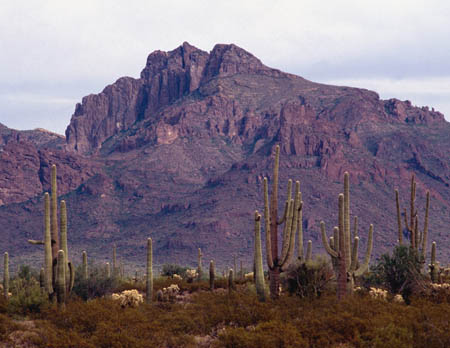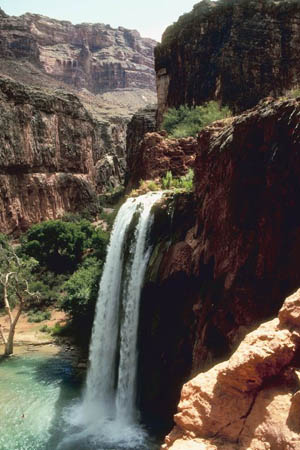 Map of the United States
Which way is north on this map? (Hint: there is no compass rose showing, so what is the assumed direction for north?) Can you find Phoenix and New York City on the map? Use your finger to trace the path in the air from Phoenix to New York. What cardinal direction is your finger moving? Can you find the scale on this map?
Tell Geo and Meri what to do:
---
Links to learn more :
All about the Empire State Building

---
Copyright © 2011-2021 by The Source for Learning, Inc. All rights reserved.