Geography and Landforms:
In the far north, Idaho is bordered by Canada. In the south, the state borders Nevada and Utah. Idaho is bordered by Montana and Wyoming on the east and by Washington and Oregon on the west.

Major rivers in Idaho include the Coeur d'Alene, the Snake, the St. Joe, the St. Maries and the Kootenai Rivers.

Idaho can be divided into three major geographic regions: the Rocky Mountains, the Columbia Plateau and the Basin and Ridge Region. The Rocky Mountains area extends from the Idaho "panhandle" south and along the Wyoming border. Although the state has 50 mountain peaks that are over 10,000 feet, the highest is Borah Peak at 12,662 feet. Hells Canyon, also in this area, is the deepest gorge in North America.

The Columbia Plateau begins in Washington and curves into Idaho at the base of the panhandle and then follows the Snake River. The Snake River plain area consists of lava flows and forms strips of land 20 to 40 feet wide on either side of the Snake River.

The Basin and Ridge Region lies in southeastern Idaho and is characterized by grassy plateaus and deep valleys.
History:
The first Europeans to enter the area we now know as Idaho were probably members of the expedition led by Meriwether Lewis and William Clark in 1805. At this time, present-day Idaho was part of a larger area known as Oregon Country. Lewis and Clark thought the land in Idaho was too dry for farming, but they found fur-bearing animals that would be of interest to traders. David Thompson, a Canadian acting on behalf of the North West Company, established the first trading post in Idaho in 1809, and other fur traders were not far behind. In 1810, Andrew Henry of St. Louis, acting for the Missouri Fur Company, established the first American post in the state near the present-day town of Rexburg. Further exploration brought more settlers to the area. John Jacob Astor, one of the richest men in the United States, was interested in the lucrative fur trade, and he sent an expedition out to explore the Columbia River region and the Snake River. His fur trading post, Astoria, was established in 1811.

Oregon Country (of which Idaho was a part) was jointly controlled by the United States and Great Britain from 1818 to 1846. In the 1820s, the British fur trading companies, particularly the Hudson's Bay Company, came into competition with American fur trappers and traders, and by the 1840s, these two groups had severely depleted the state's fur supply. The decline in supply came at the same time fashion tastes for fur hats for men began to change, and by the 1840s, the fur trade was far less important across the United States.

In 1846, the United States and Great Britain agreed to turn over a portion of the Oregon Country to the United States, including the area we now call Idaho, and in 1848, Oregon Territory was created. In 1859, Oregon became a state, and the eastern part of Idaho was added to what was then called Washington Territory. It was not until 1860 that the first permanent white settlement was established in Idaho at Franklin by Mormon settlers. These first settlers began to irrigate the land and plant potatoes.

At the same time, however, gold was discovered on the Clearwater River in 1860, on the Salmon River in 1861 and on the Boise River in 1862. Both silver and gold were found along the Owyhee River in 1863. Prospectors including many Chinese miners, came to Idaho in great numbers hoping to strike it rich. At one time, nearly one-quarter of Idaho's population was Chinese. Gold rush towns grew up overnight, but when the settlers ran out of money, the towns died as quickly as they had grown, becoming "ghost towns." In the end, enough settlers from surrounding territories and states like Washington, Oregon and California came to Idaho that the United States formally recognized Idaho Territory with its own government in 1863.

The influx of white settlers put pressure on Native American tribes living in the area. These groups, including the Kootenai, Nez Perce, Western Shoshone, Bannock, Coeur d'Alene and Pend d'Oreille Indians, resisted, sometimes violently. In time, however, the United States government and its Army forced the Indians off their land and into reservations. In 1876--77, the Nez Perce, led by Chief Joseph, attempted to flee the area and resettle in Canada, but their endeavor ultimately failed when winter set in and the people were subjected to cold and starvation. By the 1880s, all Native Americans in Idaho had been relocated to reservations.

During the 1880s, railroads were being built across Idaho, and mining operations had a more efficient method for shipping minerals to other states. This brought a second mining boom to Idaho, particularly with the discovery of gold in 1882 along the Coeur d'Alene River. In the end, the gold wasn't there, but miners discovered some of the richest silver mines in the world, along with profitable lead mines. In 1890, nearly 90,000 people were living in Idaho, and the Territory was granted statehood.
Economy:
Until recently, agriculture was the most important industry in Idaho; recently it has been surpassed by manufacturing. The state is probably best known for its potatoes, and Idaho is the nation's leading producer of spuds. However, Idaho also produces hay, wheat, peas, beans, and sugar beets, and supports cattle and dairy herds.

Manufacturing has become more important to the state's economy. Idaho's major products are electronic and computer equipment, processed foods, lumber, and chemicals. Mining, once a major source of income for the state, is still economically important, with production of phosphates, gold, silver, molybdenum, antimony, lead and zinc leading.

For many, Idaho is best known for its vacation spots. Sun Valley, one of the nation's leading year-round tourist attractions is the state's most important resort. The nation's largest elk herds draw hunters from all over the world, and Idaho's many streams and lakes provide fishing, camping and boating sites.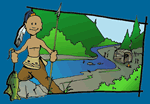 First Inhabitants:
Prior to the arrival of European and Mexican explorers, scientists estimate that around 8,000 Native Americans lived in the area we now call Idaho. These people can be divided into two distinct cultural groups: the Plateau and the Great Basin.

Plateau tribes included the Nez Perce, Coeur D'Alene, Flathead, Kutenai, Palus, Cayuse, and Kalispel, and these groups lived in the forests, prairies and along the rivers. About half their diet was fish, and the other half came from large game animals and roots. These groups interacted with Plains tribes and eventually came to be dependent upon annual buffalo hunts, and adopted many Plains Indians traits.

The Great Basin (or desert) tribes included the Shoshone-Bannock and the Northern Paiunte. These groups lived in desert regions and lived on nuts, seeds, roots, cactus, insects and small game animals and birds. These tribes were also influenced by Plains tribes, and by 1800 had adopted some of their customs, including the use of horses for hunting.
Books Related To Idaho
Baseball Saved Us - Ken Mochizuki
(978-1880000199) , Fiction
Interest level: 0-8, Lexile: 550, ESL level: 2
After a formerly imprisoned Japanese boy is released from the American internment camp where he has learned to play baseball, he finds the sports skills he learned while being held are helpful to his coping with the rest of his life and the prejudice he faces.
Charlie's Raven - Jean Craighead George
(978-0142405475) , Fiction
Interest level: 4-12, Lexile: 710, ESL level: 3 - 4
Charlie takes a baby raven from a nest, hoping to help cure his ailing grandfather with whom he shares a love of observing nature.
Colder than Ice - David Patneaude
(978-0807581360) , Fiction
Interest level: 4-7, Lexile: 550, ESL level: 3
Josh finds moving to a new school does not stop the agony of being bullied because of his weight.
Deadline - Chris Crutcher
(978-0060850890) , Fiction
Interest level: 9-12, Lexile: 880, ESL level: 4
Ben, diagnosed with leukemia, tries to find out what is important for him to pursue during his remaining year of life.
The Fences between Us - Kirby Larson
(978-0545224185) , Fiction
Interest level: 4-8, ESL level: 3 - 4
This young teen's "diary"" recounts her experiences during WWII after her brother leaves for the navy and her father takes her with him to a Japanese internment camp since he is the minister of a Japanese Baptist church."
The Girls of No Return - Erin Saldin
(978-0545310260) , Fiction
Interest level: 9-12, Lexile: 770, ESL level: 3 - 4
A teen girl chooses the wrong friends when she must attend a school in the Idaho wilderness.
The Last Good Place of Lily Odilon - Sara Beitia
(978-0738720685) , Fiction
Interest level: 8-12, Lexile: 940, ESL level: 4
Albert tries to find his missing girlfriend Lily since he is the primary suspect in her disappearance.
Lost It - Kristen Tracy
(978-1416934752) , Fiction
Interest level: 9-12, Lexile: 700, ESL level: 4
Tess' social life is interrupted when her family moves to a survivalist camp in Utah; she overcomes her fears of the natural world and sexuality despite her sometimes offbeat friends.
Mailing May - Michael Tunnell
(978-0064437240) , Fiction
Interest level: 1-6, Lexile: 770, ESL level: 2
A very young girl gets mailed to her destination in the West to see her grandmother since her family cannot afford to buy her a train ticket.
My Darlin' Clementine - Kristiana Gregory
(978-0823421985) , Fiction
Interest level: 4-9, Lexile: 800, ESL level: 3 - 4
A young teen girl copes with the roughness of frontier life in Idaho and an alcoholic parent by keeping herself focused on her goal of becoming a doctor.
P is for Potato: An Idaho Alphabet - Stan Steiner
(978-1585361557) , Non-fiction
Interest level: 0-2, ESL level: 1 - 2
This book features all the things that are special about the state of Idaho.
The Reinvention of Bessica Lefter - Kristen Tracy
(978-0385736886) , Fiction
Interest level: 0-12, Lexile: 570, ESL level: 3
Bessica's plan to reinvent herself in middle school slips by the wayside before she starts implementing it.
Famous Citizens:
Gutzon Borglum
Born near Bear Lake, Idaho, the son of Danish immigrants, Gutzon may have learned his love of sculpting from his father who was a woodcutter. Borglum is best known for his work designing and working on the massive sculptures of Mount Rushmore, although he also did other pieces including a sculpture of the apostles for the cathedral of St. John the Divine in New York City, and a head of Abraham Lincoln that is now displayed in the Capitol Rotunda in Washington D.C. Although Borglum worked for 14 years on Mount Rushmore, he died before it was completed. The work was finished by his son, Lincoln, seven months later.

Ezra Pound
Born in Hailey, Idaho, Pound earned a degree from Hamilton College and then traveled abroad where he became interested in Japanese and Chinese poetry. He is considered to be a leader in the 20th century poetry, particularly the movement called "imagism," which stressed economy of language and ignored poetic conventions like rhyme and meter. He also became involved in Fascist politics in the 1920s, and was eventually arrested for treason against the United States and declared mentally ill. He finally won release from the hospital and lived the remainder of his life in Italy.

Sacagawea
Born in Eastern Idaho, Sacagawea was the daughter of a Shoshone chief, but was kidnapped by the Hidatsa tribe when she was about 10 years old. From there, she was purchased by a French Canadian trapper who made her his wife. The explorers Lewis and Clark hired the trapper, named Toussaint Charbonneau, as a guide and interpreter on their expedition in 1804. While on the expedition, Sacagawea gave birth to her first child and carried the child on a cradleboard throughout their travels. During the trip, Sacagawea was asked to serve as an interpreter for a group of Shoshone Indians, and discovered that the leader of the group was her older brother, now the chief. When the expedition came to an end, Charbonneau's services were no longer required, and no one really knows what happened to Sacagawea. Some say she died in an epidemic in 1812, and others believe she eventually rejoined the Shoshone and died there in 1884. Her image now appears on a US one dollar coin.

Picabo Street
Born in Triumph, Idaho, this two-time Olympic medalist skier with the unconventional name came from an unconventional family. In fact, her parents believed that a child should be able to choose her own name, so for the first two years of her life, they called her "Little Girl." It was only when her parents tried to get a passport for her to travel to Mexico when she was two that US officials insisted that they give her a "real name." They chose "Picabo" after a village in Idaho (the word means "Shining Water" in a Native American language), but told Picabo she could change her name if she wanted to... she decided to keep it. When Picabo was 16, she won the National Junior Alpine Ski Championship and in 1994, she won a silver medal in downhill skiing at the Winter Olympics in Norway. Four years later, she won a gold medal at the Winter Olympics in Nagano, Japan, just months after a severe knee injury in a ski accident.
Capital:
Boise
Entered Union:
July 3, 1890
Population:
1,634,464
Area
83,570
Bird
Mountain Bluebird
Flower
Syringa- Mock Orange
Nickname:
Gem State, Gem of the Mountains
Governor
C. L. Butch Otter
Places to Visit in Idaho: (Click the links to learn more.)
Crystal Gold Mine - Kellogg
The Crystal Gold Mine is an authentic 1880s underground gold mine. Visitors can take a guided tour and see demonstrations of how gold was mined in the nineteenth century. The mine, originally built in 1879 by Tom Irwin, a prospector, was in use for about three years and then abandoned and eventually forgotten. It was rediscovered in 1991 and has been uncovered and developed for use as an educational and tourist attraction.

Idaho Potato Museum - Blackfoot
Located in an old Railroad Depot, the Idaho Potato Expo showcases the history of the Idaho potato industry. Displays include the largest potato chip (made by the Pringles Company), information on the growing and harvesting of potatoes.

Craters of the Moon National Monument - Arco
The Craters of the Moon National Monument encompasses three major lava fields and 250,000 acres of sagebrush steppe grasslands. The lava field is the largest young basaltic lava field in the lower 48 states. There are more than 25 volcanic cones and sixty distinct lava flows. There are hiking trails, including trails that take you into caves. This national monument is almost completely undeveloped, with only one paved road running through the park.

Experimental Breeder Reactor #1 - Arco
EBR 1 (Experimental Breeder Reactor #1) was the first power plant to produce useful electricity through atomic energy when it opened in 1951. It was dedicated a National Historical Landmark in 1966 after it had been shut down. Visitors can follow a self-guided tour.