XW1W (Across the World Once a Week)
Global Collaboration for Cross-Cultural Understanding
This week's question:

#xw1w-el School Library Month is celebrated each April. What does your school do to recognize your library?

#xw1w-ms School Library Month is in April. If you could redesign your school library, what is the biggest change you would make?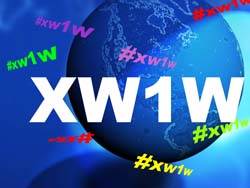 XW1W uses collaborative technologies to share answers to the same question across the world once a week. XW1W is a simple, social way for students to learn about real life in other cultures from real kids all across the world. By simply "hashtagging" Twitter or other multimedia responses to a weekly question about daily life, students can share and learn about other cultures from their global peers.
XW1W has two levels of questions, one for elementary and one for middle school students. The two different hashtags will differentiate the responses; #XW1W-E will indicate that the response is from an elementary school classroom and #XW1W-M will indicate that the response is from either a middle school classroom or a student aged 13+ years. Two different questions will be posted each week, one for each level. Check out the Teacher Guides for standards information, scheduling, and assessment ideas. Use weekly responses to collect and record data, extract key information and analyze the results through discussion and journaling.
Responses can be brief: tweeted in 280 characters or less; or longer: blog posts, wiki pages, even multimedia creations. By simply "tweeting" a short response with either the #XW1W-E or #XW1W-M hashtag or tweeting a link to other web-based responses, also with the #XW1W-E or #XW1W-M hashtag, students share their local culture and experience. Others across the nation and the world are able to find worldwide responses easily via Twitter search or other hashtag tools. Students everywhere are able to see and share answers to the same question across the world once a week. Ready to get started?
Have questions or want to get started?
See XW1W FAQ
Teacher Guides: View the Instructional Guide for Elementary and Middle School Students.