TeachersFirst's Comics and Cartoons Resources
Other TeachersFirst Special Topics Collections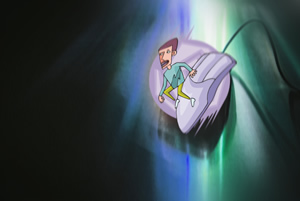 This editor's choice collection of reviewed resources from TeachersFirst is selected to help teachers and students learn about and create comics in any subject area. Comics have become mainstream in "graphic novels" and can express or explain major concepts, portray the underlying tensions behind an issue, or simply help students remember terms and definitions. The storytelling potential of comics goes back to cave drawings and can be as simple as a stick figure or as elaborate as a photograph annotated with voice bubbles. Explore these resources for tools and ideas to "draw" comics into your classroom as a tool for learning.
Check out all of our resources tagged comics and cartoons.
Explore cutting-edge technology and video from the photo editors of Time with a daily blog from Lightbox. Time Lightbox features photos and videos of current events, behind the scenes, new exhibits, books, and technology. Take another critical view of current events with photos never released or ways never portrayed. This daily, behind the scenes look, lets you know what is happening on the front lines, through photojournalism with portraits, faces, and events that are changing our history. The images give you a mix into the artistic world of photojournalism with a closer look at our world.
tag(s): cross cultural understanding (128), images (281), photography (155)
In the Classroom
Lightbox offers applications into many subject areas in the classroom. In social studies, world histories, or current events look closer at the portrayal of current events. Use this site as an anticipatory set or "activator" to introduce a unit or lesson on a projector or interactive whiteboard. Analyze the viewpoint given by the media and compare to the behind the scenes look at Lightbox. What are the stories, experiences, and effects behind the news? How does history change the lives of people? Discover multiple viewpoints that might come to life from these riveting images. Follow current events and bring them to a personal level for students. In Art classes, dive into the art of photojournalism with composition, style, space, and elements of design. Bring to life a study of current photographers portraying messages in unique manners. In Language Arts class, determine characterization, story, or details discovered in each image. Challenge students to link to one of the photos, and then narrate the photo as if it were a news report using UtellStory, reviewed here. Create audio recordings AND choose a location (on a map) where the story takes place with Zeemaps, reviewed here. Use images as ready-made writing prompts for current events or writing classes. Develop multiple points of view into well-known events to share, debate, and discover how people are affected. Lightbox will make any blog become dazzling and poignant. Keep students active, reflective, and involved in current events in an intriguing, visual way. ELL/ESL learners will benefit from the extra information shown in each photograph. Challenge gifted learners to analyze and synthesize current events in ways that they have yet to discover! Remember that these images are copyrighted, so the best way to display them on a blog or other web project is as a LINKED image. COPY the direct image URL by RIGHT-clicking on the image itself and choosing "copy image location" on a Mac or "Properties" on a windows computer. Most web tools allow you to insert images by URL, so you can paste the URL to make it display on your blog, wiki, UtellStory, Glog, etc.