TeachersFirst's Comics and Cartoons Resources
Other TeachersFirst Special Topics Collections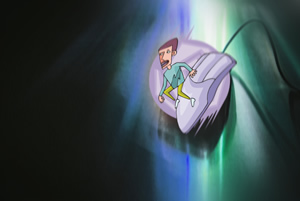 This editor's choice collection of reviewed resources from TeachersFirst is selected to help teachers and students learn about and create comics in any subject area. Comics have become mainstream in "graphic novels" and can express or explain major concepts, portray the underlying tensions behind an issue, or simply help students remember terms and definitions. The storytelling potential of comics goes back to cave drawings and can be as simple as a stick figure or as elaborate as a photograph annotated with voice bubbles. Explore these resources for tools and ideas to "draw" comics into your classroom as a tool for learning.
Check out all of our resources tagged comics and cartoons.
Make comics to prompt writing, assess understanding, or as digital storytelling. Looking for an alternative to a quiz or an assignment of boring vocabulary definitions written on notebook paper? Trying to find a way to prompt students to write even short passages? Trying to teach simple dialog to ESL/ELL students? Working on appropriate language and interpersonal skills with emotional support students? Looking for a creative way to make clever newsletter additions, bulletin board items, or class rules? Use this great online tool for both students and teachers to create web-based or printed comic strips from a selection of characters and voice bubbles-- and with your OWN text!
Our editors made a sample for you to see
.
This site also features writing prompts. To find the writing prompts, click to
Enter The Site
and then scroll to the bottom of the page. The link for
Writer Prompts
can be found on the bottom right side of the site. The Writer Prompts link will lead you to the creator's blog, with many writing prompts (with new prompts added often). This site requires Flash. Get it from the
TeachersFirst Toolbox page.
tag(s): comics and cartoons (43), digital storytelling (132), writing (294), writing prompts (67)
In the Classroom
This one is ideal for an interactive whiteboard or projector. Demonstrate the tool on the whiteboard or projector and allow the class to create a strip together before you share the link on your teacher web page. Have students create strips as a quiz or other assignment and email the links to you. No more papers to carry around and grade! Build a collection of comics on different curriculum topics to use as anticipatory sets/activators or to spark discussion. Have younger students make comic strip greeting cards for Mother's Day. The possibilities are endless.

The site creators tell us that Makebeliefscomix accepts accent marks and characters from Spanish, French, Italian, German, Latin, Portuguese, in addition to English, they hope soon to add Chinese and Japanese.

Use the writing prompts to excite reluctant writers. Visit often, as new prompts are added weekly.
Your students will create professional-looking comics in minutes using this Comic Creator site. No log-in is required. Just type in the prompted information, such as the name of comic character, author, caption, and of course, the dialog that goes into the speech bubble. The 'creator' chooses the number of panels, type of characters, style of speech bubble, and various props. Two actions are needed: clicking and dragging the items to go into the comic strip, and typing dialog into the bubbles. Then, presto....a genuine comic appears, ready for printing. The tool DOES support accent marks pasted from Word. (Unfortunately, there is no way to save your comic masterpieces.) This site requires Flash. Get it from the
TeachersFirst Toolbox page.
.
tag(s): comics and cartoons (43), sequencing (24), summarizing (16)
In the Classroom
Instead of writing boring summaries, why not summarize through a comic strip. It's much like storyboarding, but the drawing has been left to the Comic Creator pros. Make a class book of the comics created throughout the year. That book will become the most read classroom book of all in an elementary classroom. Use comics to show sequencing of events. When studying about characterization, create dialog to show (not tell) about a character. Another idea - why not use the comic strips for conflict resolution or other guidance issues (such as bullying). Sometimes it is easier for students to write it down (or draw the pictures) than use the actual words. World language and ESL/ELL teachers can assign students to create dialog strips as an alternate to traditional written assessments.