TeachersFirst's Infographics Resources
Other TeachersFirst Special Topics Collections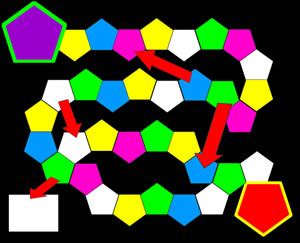 This collection of reviewed resources from TeachersFirst includes tools for creating infographics, collections of great infographic examples, and sites with professional information for teachers planning to use infographics for student projects and assessments. Join the 21st century trend of infographics as a way to share a lot of information, quantitative data, and relationships in a compact but effective visual space. Help students learn and construct meaning using infographics.
View all of our resources tagged infographics.
Find great Infographics about a variety of topics. Use the beautiful arrangement of data to uncover relationships between various pieces of information. Easily share or embed the chart where needed. Click on References and Data Table to look at the raw data and origins of the information. Choose from major topics in the tabs above such as Country Information, Environment, Food and Agriculture, and more. Search your own topics with the search bar.
This site includes advertising.
tag(s): business (56), charts and graphs (195), data (155), infographics (51), maps (295)
In the Classroom
Introduce a topic by sharing the Infographic and allowing time for students to identify various items that they notice about the chart. Allow time to think-pair-share in class and list questions for further understanding. Consider creating Infographics of material learned in class and for better understanding and connection with other topics and the world around them. Make curriculum content more real with infographics that students can relate to.
Find fascinating Infographics on a variety of topics: Technology, Environment, Business, Food Facts, Politics, Health Safety, and even Interesting Facts. What are Infographics? A graphic visual representation of information, data, or knowledge.
This site includes advertising.
tag(s): charts and graphs (195), data (155), graphic design (42), infographics (51)
In the Classroom
Use as an introduction to a lesson or unit. Use Think-Pair-Share to list and share information provided by the graphic. Develop questions to be answered to understand the information or questions that they just wonder. Allow students or groups of students to choose an Infographic that interests them and report on the information given. Consider assigning the creation of an Infographic as an assignment to understand content and connect it with the real world, such as showing the many ways electricity is used in the world or the impact of slavery on an economy. Or have them explain an experiment and report the results with graphical information to provide meaning. Since infographics are often key to understanding an article, reading teachers will appreciate this large collection to use in teaching/practicing how to interpret informational graphics within a text. Share one each day for students to practice telling you the "main idea" of the graphic.
Find a new chart each day, based on real world events in different formats. Some days include more than one graph! The newer charts are shown first. Older charts are available on the site by following the "older" link. Topics vary from world news to sports to economics and more. There is a great variety of topics and chart types. When you click on the chart, a new page opens containing the chart and a description with difficult vocabulary underlined. Click on a word to learn the definition. You can also sign up to receive the daily chart by email.
This site includes advertising.
tag(s): charts and graphs (195), cultures (116), data (155), financial literacy (109), infographics (51), sociology (24), sports (100)
In the Classroom
Share a daily chart on your interactive whiteboard or projector and have students recreate the chart into a different format (bar chart to pie chart or line graph). Have students use a tool such as Hohli reviewed here. Ask students to analyze information included on the daily chart as a math journal entry. Create a class chart comparing student information to the daily chart provided. Use the daily chart as a class warm-up - discuss trends, information provided, information not included that might be useful, etc. Social Studies teachers may want to use the charts as a tie-in to current events. Reading teachers charged with teaching about charts as part of informational texts will find a treasure trove of examples here, especially as prep for BIG reading tests.