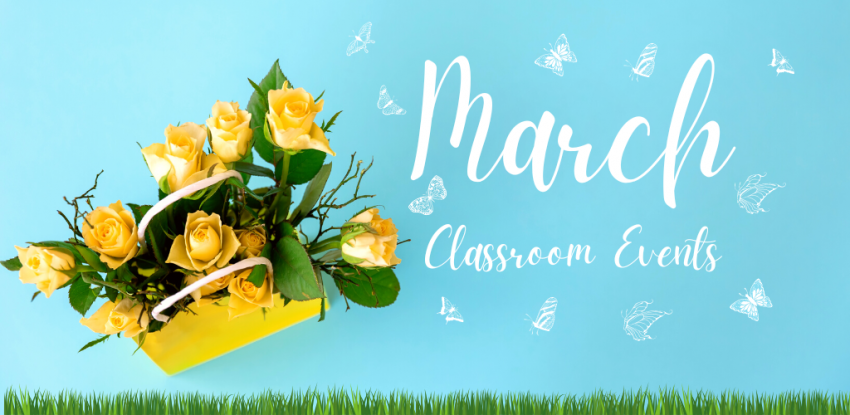 March Events to Inspire Your Lessons
Recognize several special days and observations in your lessons this month, including Pi Day, St. Patrick's Day, Youth Arts Month, and World Water Day. Find classroom ideas in the resources shared in this section.     
| | |
| --- | --- |
| | St. Patrick's Day is right around the corner! Share these resources with your students to help them go beyond green clovers to discover the history of the holiday, fairytales about leprechauns, writing exercises, and math activities. |
| | |
| --- | --- |
| March is Youth Art Month (YAM)! Connect your classroom curriculum to art and find ideas for the art classroom too. Use this collection of resources to infuse art into writing, social studies, math, and other subject areas. | The 2023 theme for World Water Day (an annual United Nations observance) is "accelerating change to solve the water and sanitation crisis." Peruse this curated list related to the SDGs (sustainable development goals), which include clean water. |
This Week at TeachersFirst
Join us this Tuesday for our next free OK2Ask virtual workshop. We are also sharing a global collaboration opportunity and blog post and kindly ask for your input on our weekly poll. 
Make global connections

Make connections beyond your classroom and try out this simple, social way for students to learn about the Sustainable Development Goals from students worldwide. Your class is presented with one question per week to answer about where you live.
Infusing Technology Blog

Skim this blog post to learn more about YAM (Youth Art Month), a celebration of the positive influence of visual arts in the curriculum. Visual arts include many forms, such as painting, photography, graphic design, interior, and more.
Share your thoughts with our community

This week our poll asks, "Will you recognize Pi Day?" Submit your reply and view the responses of other educators.
More to Explore at TeachersFirst
These six additional areas offer a variety of activity ideas for your lessons. 
Brought to You by TeachersFirst
Connect with us
Twitter | Facebook
Editorial
Contact the editor | Meet the contributors
About TeachersFirst
TeachersFirst is a collection of curated, classroom-ready content and ideas — including teacher-authored reviews of thousands of web resources. Built-in guidance from seasoned professionals makes effective classroom technology use trouble-free. TeachersFirst is made available free to K12 teachers by The Source for Learning, Inc., a nonprofit that has been providing educational resources for more than 40 years.