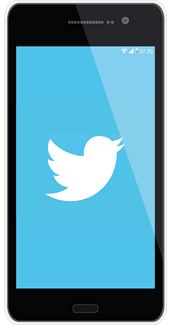 OK2Ask Twitter Chats
Named one of the "44 education Twitter chats worth your time."
Are you looking for an engaging, conversation-driven professional learning opportunity? Participate in one of our bimonthly #OK2Ask Twitter chats!
Follow @SFLOK2Ask and tweet with us the first and third Thursday each month at 8 PM ET using #OK2Ask and #TeachersFirst. Discover new perspectives, resources, and strategies related to timely education topics and connect with other educators during our educational Twitter chats!
---
Why Twitter Chats?
#OK2Ask Twitter chats are informative, relaxed, first-timer-friendly professional learning events that provide a comfortable way to meet new people with similar interests while adding to your teaching toolbox.
Our Twitter chats are a great way for educators and pre-service teachers to:
Exchange ideas, strategies, resources, and best practices with other educators.
Learn about hot topics with perspectives from expert moderators.
Share what you know with other educators.
Grow your personal learning network.
---
How to Participate
You can participate in #OK2Ask Twitter chats by tweeting responses to moderator questions and other participants' perspectives using #OK2Ask and #TeachersFirst, following chatters whose ideas resonate with you, or reading and favoriting tweets with resources you want to reference later. Our chats are first-timer-friendly to make participating worry-free—the more you share, the more you'll get out of the event!
Getting started is easy:
Follow us on Twitter: @SFLOK2Ask.
Log in on mobile or your desktop at the chat time and visit our page to see the first question.
Tweet your response using #OK2Ask #TeachersFirst.
Click here to learn more about the question and answer formats and what to expect, or click here to access our Twitter chat archive to catch up on past chats!
---
Upcoming Schedule
TeachersFirst hosts bi-monthly Twitter chats on @SFLOK2Ask using #OK2Ask and #TeachersFirst. Whether you are a new, seasoned, or veteran educator and/or Twitter user, these upcoming sessions are for you!
Want to receive Twitter chat reminders right to your inbox? Join our mailing list!
December 1 • 8PM ET: Hexagonal Thinking for Innovative Connections
Discuss the components of hexagonal thinking.
Share tools and resources for facilitating hexagonal thinking.
Explore ways to integrate hexagonal thinking in the classroom.
---
December 15 • 8PM ET: Tech-Infused Vocabulary Strategies
Discuss tech-infused vocabulary instruction.
Explore tools and resources for integrating tech-infused vocabulary activities in the classroom.
Collaborate on ideas for technology that enhances and empowers vocabulary interactions for students across the curriculum.
---
January 5 • 8PM ET: The Power of Genius Hour
Discuss the components of Genius Hour.
Share tech tools that support Genius Hour experiences.
Explore ways to incorporate the Genius Hour strategy in the classroom.
---
January 19 • 8PM ET: SEL: Strategies to Support and Empower Learners
Discuss ways to develop self-awareness and self-management skills.
Share resources that help students use social awareness and interpersonal skills to establish and maintain positive relationships.
Explore ways students can develop empathy.
---
February 2 • 8PM ET: Exploring Podcasting's Potential
Define and discuss the components of podcasting.
Share tech tools that support podcasting experiences.
Explore ways to incorporate podcasting in the classroom.
---
February 16 • 8PM ET: Engage & Inspire: Authentic Learning Activities
Discuss the instructional goals of authentic assessments.
Share tech tools and resources for authentic assessment experiences.
Explore strategies that allow educators to authentically assess students.
---
March 2 • 8PM ET: The Power of "Yet"
Define growth mindset and discuss the effect it has on academic achievement.
Discuss the role of technology in developing a growth mindset.
Share resources and tools that can help educators encourage a growth mindset in students.
---
March 16 • 8PM ET: Knowledge Construction
Define the knowledge construction process.
Discuss the benefits of knowledge construction experiences in the classroom.
Explore integration ideas for knowledge construction across various curricular areas.
---