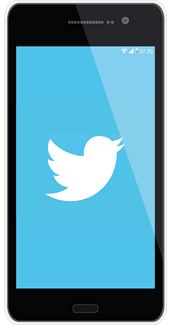 OK2Ask Twitter Chats
Named one of the "44 education Twitter chats worth your time."
Are you looking for an engaging, conversation-driven professional learning opportunity? Participate in one of our bimonthly #OK2Ask Twitter chats!
Follow @SFLOK2Ask and tweet with us the first and third Thursday each month at 8 PM ET using #OK2Ask and #TeachersFirst. Discover new perspectives, resources, and strategies related to timely education topics and connect with other educators during our educational Twitter chats!
---
Why Twitter Chats?
#OK2Ask Twitter chats are informative, relaxed, first-timer-friendly professional learning events that provide a comfortable way to meet new people with similar interests while adding to your teaching toolbox.
Our Twitter chats are a great way for educators and pre-service teachers to:
Exchange ideas, strategies, resources, and best practices with other educators.
Learn about hot topics with perspectives from expert moderators.
Share what you know with other educators.
Grow your personal learning network.
---
How to Participate
You can participate in #OK2Ask Twitter chats by tweeting responses to moderator questions and other participants' perspectives using #OK2Ask and #TeachersFirst, following chatters whose ideas resonate with you, or reading and favoriting tweets with resources you want to reference later. Our chats are first-timer-friendly to make participating worry-free—the more you share, the more you'll get out of the event!
Getting started is easy:
Follow us on Twitter: @SFLOK2Ask.
Log in on mobile or your desktop at the chat time and visit our page to see the first question.
Tweet your response using #OK2Ask #TeachersFirst.
Click here to learn more about the question and answer formats and what to expect, or click here to access our Twitter chat archive to catch up on past chats!
---
Upcoming Schedule
TeachersFirst hosts bi-monthly Twitter chats on @SFLOK2Ask using #OK2Ask and #TeachersFirst. Whether you are a new, seasoned, or veteran educator and/or Twitter user, these upcoming sessions are for you!
Want to receive Twitter chat reminders right to your inbox? Join our mailing list!
June 1 • 8PM ET: Integrating Technology with ELL
Discuss the need for technology that meets the diverse needs of our learners.
Share tech tools that can aid in differentiating the learning environment for ELL students.
Explore instructional tools and strategies that support language learners.
---
June 15 • 8PM ET: Refuel, Rethink, & Refocus for the Summer
Discuss the importance of ongoing professional learning and development.
Share ways to build and maintain a professional learning network (PLN) during the summer.
Collaborate to share resources that help educators stay current with edtech trends.
---
July 6 • 8PM ET: Career Readiness Roundup
Discuss skills and competencies that lead to successful careers.
Explore tools and resources for the classroom.
Share strategies for integrating career readiness experiences in your learning environment.
---
July 20 • 8PM ET: Digital Reading
Discuss strategies for maximizing available classroom technology.
Explore ways to use tech tools for digital reading experiences.
Share tips for integrating digital reading experiences in the classroom.
---
August 3 • 8PM ET: Research Resources
Discuss the purpose of inquiry-based research in the classroom.
Explore inquiry-based research strategies and resources for use in the classroom.
Share ideas for integrating student research across the curriculum.
---
August 17 • 8PM ET: Amplifying AI for Teachers
Discuss skills and competencies that AI can help maximize.
Explore AI tools and resources for the classroom.
Explore strategies for amplifying teacher productivity with AI.
---
September 7 • 8PM ET: Rewards of Retrieval
Define and discuss the basic elements of retrieval practice.
Share tech tools and resources that support retrieval practice.
Collaborate on ideas for integrating retrieval across your curriculum.
---
September 21 • 8PM ET: Exploring the World from Your Classroom
Share ways to integrate virtual field trips across your curriculum.
Explore tools and resources for virtual field trips.
Discuss the benefits of cross-curricular virtual field trip experiences.
---