Announcing the TeachersFirst 2020 Fall Book Club
After a summer of unprecedented demonstrations protesting racial inequality, students are bound to come back to school this year with questions and a desire to process with their peers. This moment presents a profound learning and growth opportunity, but it can be difficult to know how to make uncomfortable topics approachable. This fall, TeachersFirst® is hosting a free, member-only virtual book club designed to help teachers use popular literature to start meaningful discussions about equality and race.
---
How it Works
TeachersFirst members who participate will be divided into groups and assigned recent, popular, age-appropriate books based on the grade(s) they teach. Each week, participants will read a few chapters and join a conversation in Microsoft Teams about the previous week's reading, facilitated by our expert discussion leaders. Discussions are post-based and asynchronous, giving you the flexibility to participate on your schedule.
By engaging with other educators, you'll learn how to turn your students' interest in stories into thought-provoking discussions about justice, race, class, friendship, and inclusion. At the conclusion of the book club, participants will receive a certificate of participation and reimbursement for the price of the book. Learning is more fun with a friend, so tell a colleague and sign up today!
---
Details
Elementary School (Grades K-5):
October 5-November 30
Strictly No Elephants by Lisa Mantchev
We're Not From Here by Geoff Rodkey*
Meetings: October 5 & November 19
22 hour commitment (reading/responding/online meetings)
$25 reimbursement.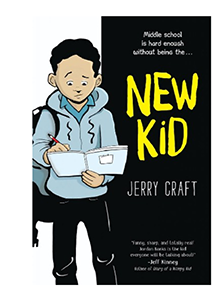 Middle School (Grades 6-8):
October 5-November 30
New Kid by Jerry Craft
We're Not From Here by Geoff Rodkey*
Meetings: October 5 & November 19
22 hour commitment (reading/responding/online meetings)
$20 reimbursement.
High School (Grades 9-12):
October 5-November 30
Children of Blood and Bone by Tomi Adeyemi
Meetings: October 5 & November 23
26 hour commitment (reading/responding/online meetings)
$15 reimbursement.
* - Closing session features live discussion with author Geoff Rodkey.
---
Outcome Highlights
Learn how to use popular books to spark discussions about challenging topics.
Help students draw real-world connections to the fiction they read.
Discover strategies for planning and executing discussion-based lessons.
Connect, engage, and exchange ideas with other educators across the country.
---
Eligibility Criteria
You must be a TeachersFirst member living in the United States to participate. (Not a member? Sign up for FREE today so you can register!) Participation is limited to 120 TeachersFirst members (40 per grade level). Registration closes September 21, 2020.
Looking for more free, high-quality lesson ideas and professional development opportunities? Check out the Infusing Technology blog and our O K2Ask virtual workshops !