Flipping the Script: Providing Quality Literacy Instruction
that Moves Between Online and In-Person Instruction
Introduction | Background Knowledge | Activities | Extensions
Introduction
Education is evolving every day! More and more schools are considering online models or digital learning days in addition to traditional face to face instruction. Teachers are using more technology in their classrooms. Teachers are learning new platforms and adapting age-old lessons to fit a new and changing world. One of the biggest challenges is how to teach literacy through a computer screen. Another challenge is how to move seamlessly from an online model to a face to face model without sacrificing the quality of instruction. As online instruction evolves, so will teachers!
Background Knowledge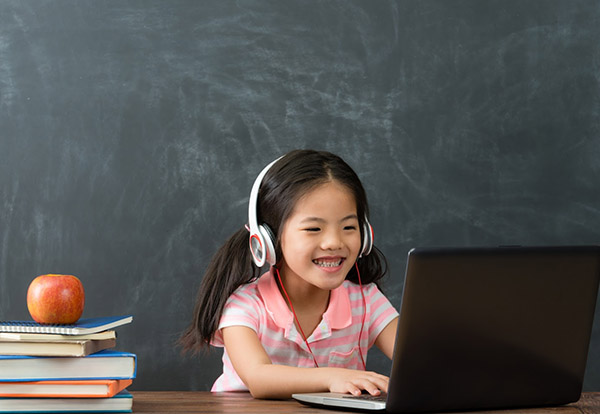 Reading is the cornerstone of all learning. Teachers read to students and read with students throughout the school day. With more schools transitioning to online instruction for all or part of the school year, teachers must get creative with sharing and assessing literacy activities. Teachers have to consider student needs, effective use of time, accessibility, and best practice to deliver quality instruction both online and in person.
Activities
Read-Alouds
Interactive Videos: Students do not need to spend valuable synchronous time in storytime. Use your asynchronous time for read-alouds and reading strategy instruction.

edpuzzle (TeachersFirst review) has over 30 interactive videos with recorded stories and embedded questions. You can create a class and assign the videos to the students. Their responses are recorded for easier assessment. You and your students can make interactive videos as well.

Read-Aloud Videos: Teachers must be very careful with copyright laws when sharing books online. You cannot simply find a recorded read aloud on YouTube and assume it is safe to share. Recording yourself reading a book and sharing it on the Internet is a gray area. Protect yourself by using existing read-aloud resources that are respecting copyright.

Storyline Online (TeachersFirst review) is a site that shares stories read by popular actors and actresses. Each book also has an activity guide for teachers, and some have activity guides for parents. These versatile and engaging activities can be adapted for online instruction or used in traditional face to face instruction. You can use the Storyline Online videos and embed your interactive questions using edpuzzle to ensure that your students are practicing specific skills and strategies.
ABC Avenue (TeachersFirst review) is a site where an enthusiastic storyteller shares about 35 classic stories, including fairy tales and fables. As with Storyline Online, you can use edPuzzle or Nearpod (TeachersFirst review) to embed interactive questions to ensure that your students are practicing specific skills and strategies.
Independent Reading
Donalyn Miller, best known for The Book Whisperer, writes about the power of discussing books. She suggests that teachers and students keep a running log of letters where students and teachers write back and forth about books. Technology is a great way to do this! Any shared document like Google Docs will enable readers to read and respond and will allow others (teachers or classmates) to continue the conversation. Students can also use Bookopolis (TeachersFirst review) to review and share books. Your learning management system (LMS) may have a shared document tool. This can happen in an online learning model as well as in a face to face model.
Students can get very creative with reading responses after independent reading!
Small-Group Instruction
One major challenge for small group instruction is ensuring that all students have access to a shared text in the absence of physical leveled readers. Use Epic (TeachersFirst review) to share books with students. These texts can also be assigned to students for independent practice before or after the small group meeting. Also, check with your district! Many textbook companies are making their materials available in a digital format.
Make sure that you can see all of the students in the small group.
As much as possible, schedule 1:1 time with each student each week. Make sure that you check your district's standards for meeting a student 1:1 online.
Use any asynchronous activities to plan for your small group instruction.
Writing
Writing Workshop can continue in an online teaching model, and using technology for writing can streamline a face-to-face model!
For primary students, you can still implement shared writing and interactive writing. Zoom (TeachersFirst review) allows the teacher to give over control of the mouse to the students, one at a time. Doing this can mimic the shared pen experience.
For primary students, the University of Florida Literacy Institute (UFLI) has writing resources that include writing paper, letter formation guides, and editing reminders.
For all students, using a collaborative document allows for students and teachers to access writing. Students can still peer edit and work with revising partners, and teachers can still hold writing conferences. Writing options could be poems, stories, songs, comic strips, etc.
For writing conferences, use the breakout room feature in your video conferencing platform, if possible. Paraprofessionals can be very helpful here if you are working with one; the teacher can hold writing conferences in breakout rooms while the paraprofessional facilitates the full group, providing assistance and reteaching as needed.
Phonics and Spelling
The University of Florida Literacy Institute (UFLI) has curated a Virtual Teaching Hub, a wonderful resource with many videos and instructional materials designed for online teaching. There are great resources for phonics instruction and sight word instruction for younger grades. The word study mats are an amazing resource and can be used with primary students as well as intermediate students. There are resources available to quickly and easily create digital sorts.
Create digital choice boards for word study activities using Google Slides. Learn more about the benefits and creation of choice boards at TeachersFirst OK2Ask: Engage and Inspire: Choice Boards for Differentiation.
Extensions
Create interactive reading opportunities using collaborative documents with Google Jamboard (TeachersFirst review). Allow students to annotate a document or add comments, images, notes, and replies to foster discussion in the online classroom. This can also transfer to the face to face classroom.
Create opportunities for student reflection. Whatever model you are currently using, check in with your students. If you are using technology, use emoticons to gauge your students' feelings about the lesson.