HOW DOES YOUR GARDEN GROW? A Project-Based Approach to Learning.
Introduction | Background Knowledge | Activities | Extensions
Introduction
It is difficult to see the thaw through the ice and cold of winter, but spring is coming...and it will be here before we know it! Now is the time to start planning for spring units on gardening! Gardens are a perfect topic for libraries and classrooms because teachers can touch so many aspects of the curriculum using a picture book as a springboard. Facilitating an immersive project will encourage implementing every aspect of the curriculum, all while getting their hands dirty!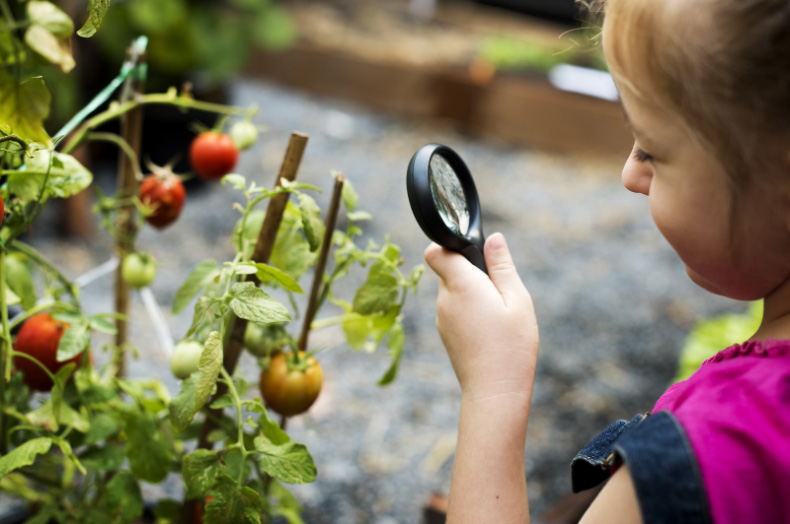 Start with Literature
Begin with, And Then It's Spring by Julie Fogliano (ISBN 9781596436244). This easy picture book centers around a young boy who is tired of the cold, dreary winter and decides to plant a garden in the spring. He anxiously waits for it to grow. Students can connect to the feelings about winter and the anticipation of spring!
Other Options for Literature:
Ask a Question
How can we plant a garden in our classroom? (In our school, in our home)
ISTE Standards for Students: 3d Students build knowledge by actively exploring real-world issues and problems, developing ideas and theories, and pursuing answers and solutions.
AASL National School Library Standards: Inquire Shared Foundation: Think Domain: Learners display curiosity and initiative by 1. Formulating questions about a personal interest or a curricular topic. 2. Recalling prior and background knowledge as context for new meaning.
Background Knowledge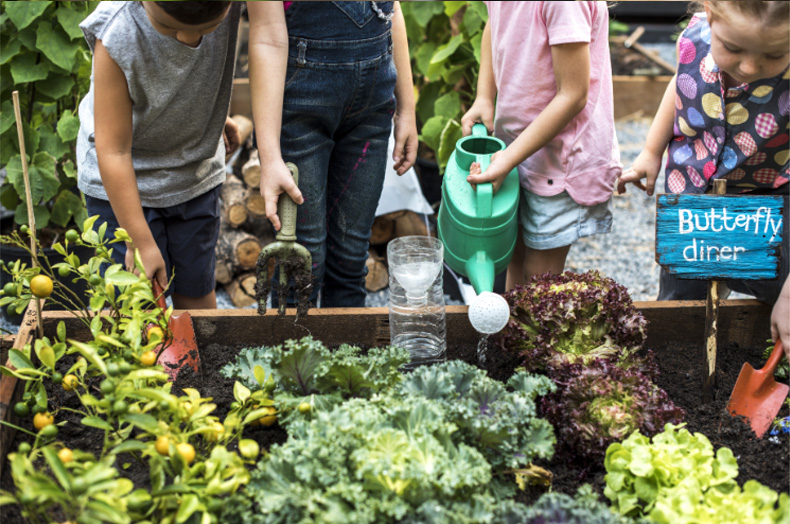 Activate Prior Knowledge
Brainstorm what students know about gardens.
Brainstorm what students need to know to answer the question.

ISTE Standards for Students: 5c Students break problems into component parts, extract key information, and develop descriptive models to understand complex systems or facilitate problem-solving.
AASL National School Library Standards: Inquire Shared Foundation: Create Domain: Learners engage with new knowledge by following a process that includes: 1. Using evidence to investigate questions. 2. Devising and implementing a plan to fill knowledge gaps.
Gather Information
Technology Approach

Gardener's Supply Company Website (TeachersFirst review here)

Amazing free tool for research and planning! It allows students to explore pre-planned gardens as well as plan their own with a drag and drop feature. The tool shows students how many of each plant will fit in the space and provides a planting guide for each of the chosen plants. It also allows for research on USDA growing zones.
Throw in a quick discussion about why this is a reliable source.

Epic Books (TeachersFirst review here)

Free collection of ebooks. This resource requires a login and account. Teachers can create a classroom and assign books to the students. There are options for comprehension checks if that is a school or district requirement. There is an excellent selection of nonfiction, especially for emergent and beginning readers!
Check out the Super Simple Gardening series! This series focuses on different types of gardens and encourages container gardening.

Use Google Slides, Google Sheets or Google Docs to encourage collaboration. Students can plan their gardens, track watering and growth, and share what they have learned!
Digital Camera (on a device or with an actual camera) to document the process
Movie Making tools (suggestions - Adobe Creative Cloud Express Video Maker (TeachersFirst review) or Biteable (TeachersFirst review) or whatever technology is available) to present the process.

Non-Technology Approach

Books!! Scour the nonfiction section of the school or public library and bring in as many resources about planting a garden as possible. The more pictures, the better! Try and find a Plant Encyclopedia! Students can look through the books to find the same information presented on the Gardener's Supply Company website and the Epic Books.
This website has a list of print resources for students looking to start a garden.
Map it out on graph paper. Students can practice area and perimeter skills as they plan out their gardens.
Ask garden stores or online stores for seed catalogs. Students can cut out pictures of plants and arrange them in draft gardens or use the pictures for final projects.
ACTIVITIES
Start Planting!
There are a number of grant programs that provide seeds to schools for free. They may not fit the students' vision of the garden, but it is a start.

Seed Savers

"Each year, Seed Savers Exchange donates the previous year's unsold seeds to charitable organizations through our Herman's Garden Seed Donation Program. To qualify for a Herman's Garden seed donation, an organization must be a nonprofit or have a nonprofit umbrella sponsorship and have a shipping address within the United States. Neither seeds nor resulting produce from a Herman's Garden seed donation may be sold, raffled, or given in exchange for money or donation, including for fundraising events. Herman's Garden volunteers pre-pack the donation boxes with 50 seed packets, each a different variety. Recipients do not choose specific varieties, but will receive a wide selection of seed varieties. Organizations may not apply for more than one Herman's Garden seed donation every twelve months. There will be a $15 shipping and handling charge for each donation." Presidents Council Meeting Minutes.

Seed Exchange (TeachersFirst review here)

"The Seed Exchange provides a place where users can offer seeds for trade and make requests for seeds they are seeking. Items for sale are not permitted".

Save Our Monarchs

"Every school, scout troop and 4H club is invited to participate in the Save Our Monarchs Pollinator Garden Program. Once enrolled, schools will receive a Pollinator Garden Mix pouch containing 17 wildflower, ten (10) annuals for first-year color, plus seven (7) perennials for second and successive years' bloom....perfect for children to plant in a Butterfly & Bee Garden!"
"Our goal is to get every school to plant a 10' x 10' garden plot designed just for pollinators, including monarch butterflies and bees. There are about 35 milkweed seeds per packet. Just chose a sunny area at the school or on the playground to do the planting." Pollinator Garden Program - Save Our Monarchs.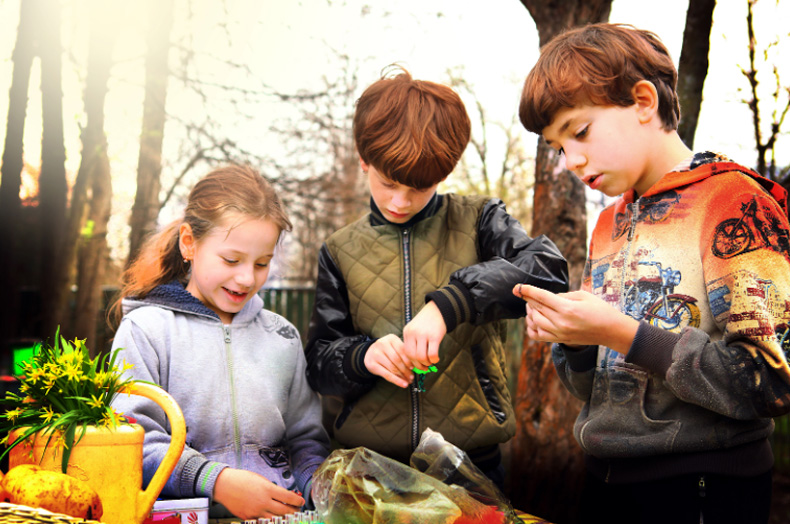 Show What You Know
Technology Approach
Non-Technology Approach

Garden Tours - students invite other classes or grade levels to tour the garden while explaining the process and the products.
This is only the beginning! Planting a classroom or school garden can lead to many extension activities!
EXTENSIONS
Top 10 Ways to Extend a Garden Project
Composting
Turn a corner of the garden into a compost pile! Reduce waste and start creating healthy, rich soil for next year's garden! Add some worms for added excitement!
Math - (Measuring plants, creating graphs)
As the plants begin to grow, students can measure height and graph changes over time or compare plants.
Edible Parts of the Plant
Students can harvest their plants and sort them by part of the plant. (For example, carrots are roots, lettuce is leaves, tomatoes are fruits.) For added fun, the students can taste the different vegetables that they grew.
Cooking
Students can take their plants and make them into a final dish. They can make a salad or, if appliances are available, try various cooking techniques. Cooking also works on steps in a sequence and following directions.
History Lessons (Victory Gardens)
Check out Diana's White House Garden by Elise Carbone (ISBN 9780670016495). Talk about how Americans planted gardens during World War II to feed their families when all available resources were being used to support the war effort.
Life Cycles
Planting a garden allows students to see the life cycle of a plant in action. Using observation, students can keep a journal of what they see from seed to plant. Try extending this to animals that benefit from the plant - for example, plant a butterfly garden and bring caterpillars in. Students can observe two life cycles at once.
Pollination
Extend the garden lesson by learning about bees and other pollinators and how they help plants grow! The California Academy of Sciences has an excellent lesson plan (TeachersFirst review here) to explore this topic.
Community Outreach (Plant a Row for the Hungry)
Many local garden clubs or community gardens participate in the Plant a Row for the Hungry initiative.
Soil
Students have probably learned that farmers rotate crops to keep soil healthy. This resource (TeachersFirst review here) takes it a step further to explore the WHY. Students examine the soil to explain how gardening can help.
STEM - create a pinecone birdfeeder (try sunbutter or suet instead of peanut butter)
Students can extend their garden project by inviting birds to their space. A great, earth-friendly way is to make a biodegradable bird feeder. Simply tie a string on a pinecone, roll it in peanut butter (or sunbutter or suet if there are allergy concerns), roll that in birdseed, and hang your finished birdfeeders outside.