TeachersFirst's OK2Ask Archives
Other TeachersFirst Special Topics Collections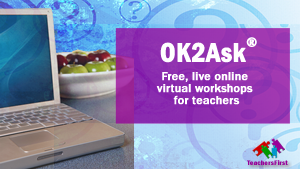 TeachersFirst offers OK2Ask® free, online hands-on workshops for teacher professional development. This collection of archived recordings is available for those who attended to recap the session and for others to watch any time. Gather your teacher friends and learn together!
This collection begins with sessions in early 2013. Recordings require the Flash plug in. They open in Adobe Connect. If you are watching on a mobile device, you will need the Adobe Connect app, available at both the Apple and Android app stores. Check your computer for Adobe Connect compatibility using this quick diagnostic.
Note that TeachersFirst does not award professional development certificates for watching archived recordings.
View upcoming offerings from OK2Ask here.
Learn more about OK2Ask, including answers to frequently asked questions.