Building Schoolwide Literacy
Success in reading, writing, listening, and speaking offers students a greater ability to thrive in all facets of life. From school to post-education and beyond, being a strong reader and writer encourages exceptional confidence and room for continued growth. Students with strong literacy skills may be more likely to try new things and push themselves past goals that they may have thought might not otherwise be achieved. Applying a schoolwide literacy model means that your school develops a common technology ecosystem to support literacy learning at every level.
Building schoolwide literacy within a school (brick-and-mortar or remote) or throughout a school district offers huge rewards. By incorporating a focus on literacy, students, teachers, and parents have the opportunity to benefit in a myriad of ways. The Source for Learning K–12 offers this model for elementary (or middle) schools to build skills in reading, writing, speaking, and listening systematically through a schoolwide model. The free web 2.0 tools suggested here are by no means the only tools that might work. These exemplary tools were chosen by the TeachersFirst Editors for ease of use and versatility in the classroom and at home, and can easily be implemented at grade levels other than those suggested here. As students and teachers master a new tool at each grade level, they will develop rich literacy skills and vital technology skills, all in the context of reading, writing, speaking and listening across the curriculum. Here, we have provided tools which can be used to create a learning toolbox, building one upon another, year after year, as a student learns and grows. We have also created resource sheets for your reference.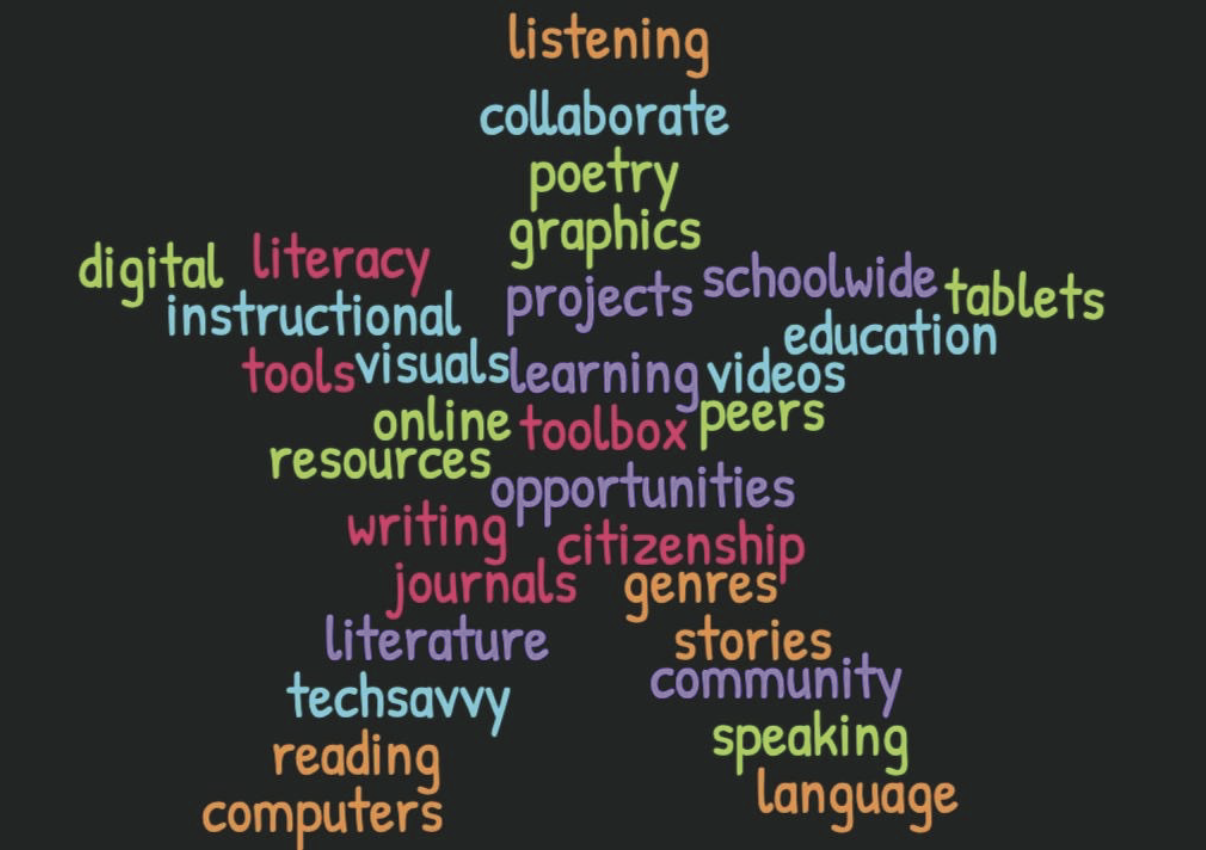 Students love to collaborate, and are often incredible teachers while working with their peers. They often pick up new technology skills independently and these can also be shared with their classmates (and teachers!) as they work during the year. While teachers are responsible to understand and utilize their "assigned" technology tool, one may find that he or she becomes familiar with many of the others that students might have already been privileged to learn.
At the completion of fifth grade, a student will have engaged with and mastered the following: FlipGrid, Word Clouds, BookCreator, Sway, Adobe Creative Cloud Express, and ZeeMaps. Another positive benefit of incorporating schoolwide literacy is its flexibility. This has been designed to be utilized with your current literacy program and curriculum. It will help to promote digital literacy in meaningful ways while encouraging strong readers, writers, listeners, thinkers, and problem-solvers.
How Will Building School-Wide Literacy with the Help of Technology Tools Work for You?
Teachers learn one or two tools per year, but can learn more if desired.
Students will focus on one or two new tools each year and will use each multiple times in meaningful ways.
Students within the school community will become competent digital learners.
Students will carry literacy tool expertise from one year to the next.
Classmates can assist new students that move in to the school and offer peer support.
Higher grades will have more tools available for use because they have gained competency in additional tools from prior years.
Literacy templates and scaffolding ensure success for all learners.
Creative options can offer enrichment opportunities.
Students and teachers become experts on free web-based tools.
Whole-class literacy projects from prior years remain online for future classes to see, improve, and utilize, and students can connect back to their own prior knowledge.
It offers additional opportunities for home-school connections as parents will be encouraged to engage with their child(ren) and learn the technology tools as well.
The school website can share quick start guides and tips which can be utilized at home and at school.
Schoolwide technology use also promotes digital citizenship such as citing sources, commenting etiquette, online safety, and a critical eye toward online information.
Schoolwide Literacy Benefits
Benefits to Students
At each grade level, students learn one new tool and use it repeatedly as part of their literacy toolbox, not as a focus in itself.
Students carry literacy tool expertise with them from grade to grade, so higher grades have more tools available.
Move-ins have classmates available for support with literacy learning tools from prior years.
---
Benefits to Parents
Parents are invited and encouraged to learn the grade level tool at a grade-level evening literacy workshop together with their child (child teaches parent!). Parents with multiple children will only need to learn it once.
Schoolwide literacy model means that families can share both in and out of school; siblings and relatives can share, as well. Parents learn along with their children.
Online sharing offers chances for "virtual" school literacy events involving parents including book fairs, poetry reading, science project sharing, etc., helping busy parents be involved with school on their own time and providing a real audience for student products.
---
Benefits to Teachers
Student tool expertise creates literacy peer-tutors, big-buddies/little buddies, and help for all teachers.
Opportunities to use literacy templates and scaffolding assure success for all, while creative options allow for enrichment and extension.
No teacher must learn more than one tool per year unless he/she wishes to.
Both students and teachers become local "experts" on use of specific, free web-based tools and can support each other in literacy uses of these tools.
Grade level teachers have the option to use a second, additional tool for teacher-created products once comfortable with the STUDENT tool for his/her grade level.
Whole-class literacy projects from previous years often remain online for future classes to see, improve, and augment. Past students can visit to comment and connect back to their own prior knowledge.
---
Schoolwide Benefits
The school is a community of learners, both children and adults, including parents.
Central school locations (library/media center, computer lab) offer "centers" for tips and how-tos on schoolwide tools.
School web page can share quick start guides and tips for schoolwide tools.
Schoolwide technology use also promotes digital citizenship such as citing sources, commenting etiquette, online safety, and a critical eye toward online information.
Schoolwide technology literacy also provides opportunities to extend collaboration outside the school via education-safe communities and collaborative projects with other schools using the same tools.
Digital Literacy Tools
Grade Level:
Tool:
Literacy Skills
Kindergarten
Flip Grid
Getting Started
https://info.flipgrid.com/
Create video responses.

speaking
listening
comprehension

First Grade
Word Clouds
Getting Started
https://www.abcya.com/games/word_clouds
Make visual displays of words in multi-color, multi-size graphic images, shared as images or by URL.

vocabulary development
making predictions
summarizing

Second Grade
Book Creator
Getting Started
https://bookcreator.com/
Create beautiful digital books and easily add video, text, images, and audio. Publish and share your book.

writing of complex concepts
oral expression of complex concepts
vocabulary development
connection of written ideas
clarifying details

Third Grade
Sway
Getting Started
https://sway.office.com/
Create interactive presentations that will work across all devices. Add text, images, and media.

summarizing
including details
presenting information effectively

Fourth Grade
Adobe Creative Cloud Express
Getting Started
https://www.adobe.com/express/
Express ideas through a digital canvas.

persuasive communication skills
creative writing
presenting information effectively
vocabulary development
oral expression of complex concepts
critical thinking
research

Fifth Grade
ZeeMaps
Getting Started
https://www.zeemaps.com/
Upload photos to share. Students can post, tag, and describe their photos and surroundings based on a teacher-directed prompt or activity.

data literacy
critical thinking
research
communication
vocabulary development
connection of written ideas
Additional Tools
Trading Card Creator: Design a trading card about a real or fictional person of interest, a place, object, event, or concept.
Make an Animation: Design simple animations with up to forty frames.
Story Map: Create and print graphic organizers for characters, setting, conflict, and resolution.
Padlet: Construct a virtual bulletin board with images, text, videos, and links.
Big Huge Labs: Design your own magazine covers, movie posters, trading cards, and more.
Animoto: Compose engaging slideshows with personal sounds, video, audio, and more.
Bookemon: Makes interactive online books. Start from word files, PowerPoint slides, or templates.
Story Maker: Write, illustrate, and print stories.
Blabberize: Create talking graphics and images.
Cube Creator: Create bio, mystery, and story cubes, or create your own cube.
Bubbl.us: Brainstorm ideas and create concept maps.