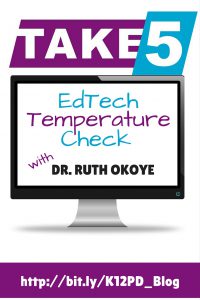 Let's take an 'EdTech Temperature Check' in five questions with Dr. Ruth Okoye. Dr. Ruth is a veteran urban educator, passionate EdTech Coach, and current Director of K12 Initiatives for The Source for Learning. I caught up with her in cyberspace (of course) as she was in the throes of finalizing resources for an ISTE 2016 presentation.

K STREETER: What's one thing you do every day without fail?

R OKOYE: I go home for lunch and walk my dog.  It's a blessing that I live close enough to work that I can do that.  It's great for my little guy and it's good for me too.  I get a chance to get out in the gorgeous sunshine…and make some Vitamin D.
K STREETER: What is one of your favorite quotes?
R OKOYE: "Education is the most powerful weapon which you can use to change the world." ~Nelson Mandela – First of all, it's very true, and secondly, Nelson Mandela is a personal hero…
K STREETER: What are three technology tools you can't live without and why?
R OKOYE: Right now that would be: Amazon.com – my hands down favorite place to shop; My Jawbone UP fitness tracker – I wear it every day and it helps me stay on track; and my Roku box – makes streaming to my TV a breeze.
K STREETER: What is the biggest EdTech challenge you face in your current role?
R OKOYE: EdTech changes all of the time. I have to put processes in place to make sure that we prune TeachersFirst collections, update OK2Ask topics and keep abreast of all the trends.  It's quite a daunting task.
K STREETER: Finally, name two topics you think are hot in education right now that teachers need to become familiar with.
R OKOYE: Mass personalization of instruction – it's coming and coding.