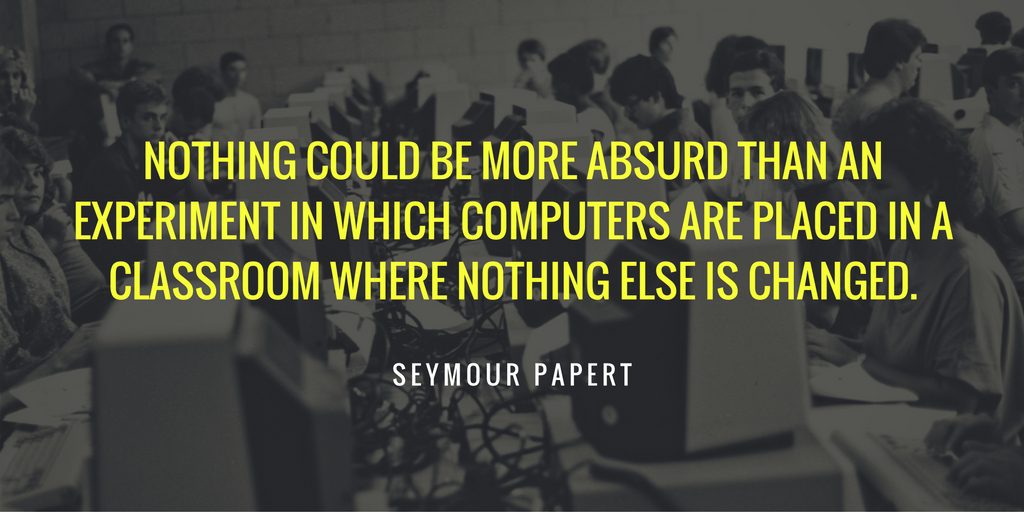 Twice a month we devote blog posts to powerful quotes. We offer short discussions of how they impact us personally, professionally and, most importantly, how they apply to our area of expertise, effective technology implementation in the classroom. This week we chose a quote from the legendary educational theorist, Seymour Papert, MIT mathematician, computer scientist, and educator. He died at his home on Sunday, July 31, 2016. He was 88. The MIT Media Lab said it best, "(his) ideas and inventions transformed how millions of children around the world create and learn." Are you familiar with Lego MINDSTORMS? The product name was taken from one of Papert's books. The work involved the concept of not just using computers to deliver tests and evaluate children but also for children to use computers for problem-solving and invention (Gasperi, M., Hurbain, P., & Hurbain, I. (2007). Extreme NXT: Extending the LEGO® MINDSTORMS® NXT to the next level. Berkeley, CA: Apress.). Reflect on this extraordinary man's life and contributions through the articles referenced below. Pause for a moment to honor the memory of this incredible visionary and pioneer — thank him for laying the foundation of what has changed our lives.
After hearing of his passing, I called Dr. Ruth Okoye, Director of K12 Initiatives for The Source for Learning. She and I have both been profoundly impacted by Papert's work. In a voice drenched with emotion, she softly mentioned a post she saw on Twitter that illustrated who he was and the impact he had. It was quote by Apple co-founder, Steve Jobs. "The people who are crazy enough to think they can change the world are the ones who do." She continued, "This is the man who co-created the first programming language I learned – Logo. The bottom line for me personally is, it's true…that quote isn't just something that I retweeted because it is a nice thing to say. When I think about the impact that Papert had on the world and on education, in particular, I realize that my life has been forever changed. Even before I knew that I wanted to be in EdTech, what he did laid the foundation to change my life — I would not be the same person if I were in a different industry. I can't imagine being anything else. Deep down this is what I was meant to be. I went into education to be a teacher, but my bachelor's degree is in computer science. The marriage of those two things didn't really exist (a quarter of a century ago). You know, they had computer games that kids played,  but there was no classroom pedagogy behind it the way there is now…his work paved the way."
The quote we selected is from Papert's 1993 book, The Children's Machine: Rethinking School in the Age of the Computer (BasicBooks). Over 20 years ago he was telling us that, "computers serve best when they allow everything to change." Many have had a misguided expectation that computers are going to revolutionize education, but a computer is just a machine. They are tools to reach for to support the acquisition and creation of knowledge. To rely on them as a silver bullet is instructionally irresponsible. Additionally, to place any tool in a classroom with the expectation it will, by its own nature, enhance the learning environment is instructionally irresponsible. Without providing teachers and administrators intimate knowledge of how to best use that tool to make instructional change is, again, instructionally irresponsible. It is imperative that we train educators AND modify the learning environment as a whole. This means adopting a common language surrounding technology implementation and changing curriculum, content, assessment, delivery, and even the design of the physical classroom. How else can you expect to leverage the power of technology to drive learning? Furthermore, we need to let go of the notion that kids are born knowing how to use computers. That's absurd. Kids can bang on pots all day…that doesn't mean they are making music. Students are more often comfortable using computers because they have no fear and because new and ever-changing technologies have been omnipresent for them since birth. However, to use the technology to do something productive, to truly drive learning, certain skills need to be taught and efforts guided — even if it is students teaching each other. So, if you put a computer in the classroom assuming the kids will figure it out without training the teacher, nothing of consequence will happen. Unfortunately, we continue to see this happening in today's classrooms as new technologies are adopted. Let's agree to break that cycle.
Articles:
The New York Times – Seymour Papert, 88, Dies; Saw Education's Future in Computers
Massachusetts Institute of Technology (MIT) Media Lab – In Memory: Seymour Papert