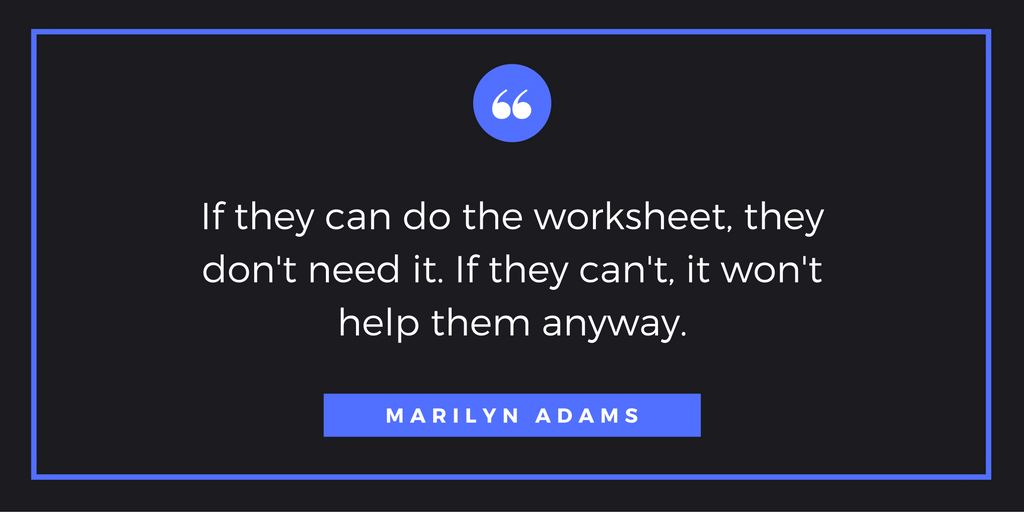 It is the start of a new school year. May this be your most wonder-filled, rewarding and empowering yet. At the beginning of each new year, we plan — we plan for the use of instructional strategies that have improved student learning in the past, and we plan for the implementation of newly acquired strategies as part of our quest for continuous improvement. We have conversations. We share ideas. We are given new initiatives to implement. We discuss ongoing challenges. One topic often discussed is that of the effectiveness of worksheets and the place they hold in an innovative classroom. The quote for our post today hits that topic square on. I saw it first as a Twitter post by Alfie Kohn on March 4, 2015. I kept it in my quote file because it, and the fevered discussion it generated, resonated with me.
When I first read it, I said to myself, "yup, that's spot on!" After some consideration and research, I still think it is an accurate statement, but it needs some context — it needs some balance. School leaders need to encourage dialog around the topic. First, schools need a common understanding of the term worksheet. What does each of us mean when we say worksheet? Is the Data Recording Sheet your students fill out when they perform an experiment a worksheet? Does it depend on the types of questions they are being asked to answer? Are you asking students to fill in blanks and then organize terms or complete a storyboard? Are you asking them to color and label a diagram from a list of terms under that diagram or are you asking them to DRAW and label the diagram? Are there any open-ended questions on the worksheet? Can students discuss those questions during the completion of the activity or will there be a group discussion after the activity? Second, schools need to clarify under what conditions, if any, worksheets are acceptable. You cannot take on the second step until you have completed the first.
When asked why worksheets don't belong in early learning and kindergarten programs The Affiliated Services for Children and Youth in Ontario Canada responded aptly with:
Because worksheets take away from oral language development, creativity, movement, problem-solving opportunities and the sensory experiences necessary for brain development, human interactions and friendships. Worksheets only tell you what the child knows, generally provide only one right answer and do not let children use their creativity or encourage open-ended questions to expand their knowledge and interests.
Let's take a further look at why worksheets have a bad reputation. In each of the five bullets below, research indicates that the opposite is needed to build deep understanding.
Worksheets do not promote critical thinking. They focus on reinforcing rote as opposed to higher-order thinking skills.

Some teachers rely too heavily on worksheets. They become a large part of classroom instruction instead of a tool strategically reached for in the appropriate scenario to support the curriculum. For example, to support building math fluency and to provide extended practice.

Worksheets are not engaging, and they turn students off from learning.

Worksheets don't provide immediate feedback. Imagine the frustration of the student that practices incorrectly across an entire worksheet.

Worksheets are used primarily as independent activities and aren't designed to encourage collaboration and discourse.
All worksheets, like any other teacher-created tool (assessment, activity, lesson plan, etc.), are NOT created equal. Students need authentic, real-world learning experiences that are interesting and accessible to them. They need opportunities to explore, problem-solve, work collaboratively, and receive immediate feedback. So, before you reach for a worksheet, ask yourself two questions: (1) what am I asking my students to do? and (2) is this the most engaging, useful practice or follow-up for my lesson?
And so we have come full circle. Back to what we think about at the beginning of a new school year, what instructional strategies will we use in our classroom to drive student learning? Dr. Marcia L. Tate, author of Worksheets Don't Grow Dendrites and former  Executive Director of Professional Development for the DeKalb County School System, Decatur, Georgia has synthesized the research on instructional delivery systems and compiled a list of 20 instructional strategies that engage the brain. As she has stated, these strategies are not new but the research supports why they are more effective for understanding and long-term retention of information than worksheets or long lectures. You can find a summary of those strategies here.
Finally, how does this discussion apply to implementing educational technologies in the classroom? Let's take advantage of the powers of technology to increase engagement and deepen understanding. The power of interactivity. The power of personalization. The power of creation. The power of collaboration. The power of immediate feedback. The power of accessibility. – AND – The power of compiling data. You can use technology for practice in centers in your classroom. You can use technology as part of whole group instruction, and you can use technology in collaborative small group activities. Let's look at some FREE technology-based alternatives to filling in blanks and labeling diagrams on worksheets — ways students can show what they know:
Word Clouds – Students could use ABCya Word Clouds for Kids to create lists of synonyms and antonyms or to analyze the tone or theme of a story, speech or poem.
Google Draw – Use Google Draw to design and label diagrams.
Google Forms – Use the branching and quiz capabilities of Google Forms to create interactive activities that incorporate audio, video, images, and instant feedback and provide reteaching and review.
ReadWriteThink Interactives – Many of these activities can be used in all content areas.
Big Huge Labs – Use the Motivational Poster module to complete a vocabulary activity. Find out what students understand about a concept by creating a 6-word story. Students find a suitable picture and sum up the concept in 6 words.
Microsoft Sway – Sway makes it quick and easy to create and share polished, digital stories, interactive reports, and presentations. Students can easily include audio, video, images, electronic documents, and more.
Have a fantastic school year!