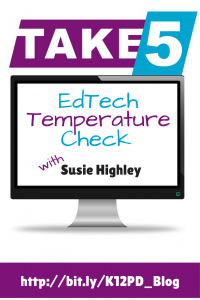 This month's 'EdTech Temperature Check' in five questions takes us to the Crossroads of America, Indiana. Meet Susie Highley, veteran middle school educator, media specialist, former science teacher, and tireless advocate for education. A co-founder of edCampIndy, co-author of Teaching 2030 and member of the SFL K12 Advisory Council, Susie is always on the lookout for great professional learning opportunities.
KAREN: What's one thing you do every day without fail?

SUSIE: I listen to my friends and colleagues on Voxer! (Not familiar with Voxer? Learn more from TeachersFirst's Voxer review.)
KAREN: What is one of your favorite quotes?
SUSIE: 'Chance favors the connected mind.' ~Steven Berlin Johnson
KAREN: What is the biggest EdTech challenge you face in your current role?
SUSIE: I am fortunate that my district is in the fourth year of being 1:1. However, I wish there were more time for me to collaborate with classroom teachers and work alongside them.
KAREN: Name two topics you think are hot in education right now that teachers need to become familiar with.
SUSIE: Giving feedback to students. Interdisciplinary teaching, rather than separating content areas and forcing teachers to teach in a lockstep manner.
KAREN: What book or article are you reading now or have read recently that caused you to pause and think for a moment? Why was it important to you? If the article is available online, please share the link with our readers.
SUSIE: The first article I want to share is Read This Story without Distraction (Can You?) from the New York Times. Recently I attended the online Digital Shift conference, and the closing keynote speaker was Manoush Zomorodi, who is included in the article. The conference opening speaker was author Nicholas Carr, who wrote the book The Shallows, and also the second article I am recommending, Is Google Making Us Stupid? It was a fabulous conference, and I keep thinking about what we should do as educators to deal with some of the issues they discussed. Our current preoccupation with social media, cell phones, etc. affects adults as well as students.
Von Pfetten, V. (2016, April 29). Read This Story without Distraction (Can You?). The New York Times. Retrieved November 4, 2016, from http://www.nytimes.com/2016/05/01/fashion/monotasking-drop-everything-and-read-this-story.html?_r=1  
Carr, N. (2008, July/August). Is Google Making Us Stupid? The Atlantic Monthly. Retrieved November 4, 2016, from http://www.theatlantic.com/magazine/archive/2008/07/is-google-making-us-stupid/306868/