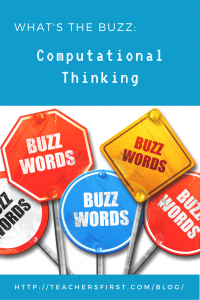 When ISTE unveiled the refreshed ISTE Standards for Students in June, there were a number significant changes. The addition of "Computational Thinking" was one of them. I've overheard some teachers trying to understand the concept and have come to realize that we're not all as clear on the concept as we should be.  Some have thought the term means to get students to think like a computer when in fact the concept is quite the opposite.  Coined in 2006 by the Computer Science department head at Carnegie Mellon University, Computational Thinking is a method of problem-solving that involves:
breaking problems down to their component parts

identifying patterns within the pieces

understanding how the patterns are generated and recur and finally,

developing a stepwise method for solving the given problem and others like it.  
So in fact, ISTE is not suggesting that we teach kids to think in binary terms. The addition of the standard indicates that every child should be able to break down and analyze a problem and develop a system for solving problems that are similar. The catch is that not every teacher is prepared to teach Computational Thinking.
If you want to learn more about Computational Thinking and how to introduce the concept in your classroom, check out the resources below and then leave a comment on how you will incorporate Computational Thinking in your classroom.
For you:
For your students: