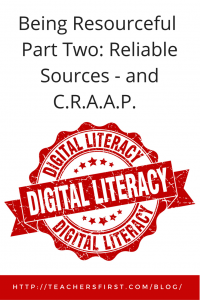 Evaluating resources, in any medium, is a critical thinking skill for information literacy, media literacy, or digital citizenship.  Of course, it is also part of educational state standards patterned after the Common Core.  They emphasize reading, writing, and speaking grounded in evidence from texts. In a discussion of the key shifts in the standards, the introduction states:
"The Common Core emphasizes using evidence from texts to present careful analyses, well-defended claims, and clear information. . . The standards' focus on evidence-based writing along with the ability to inform and persuade is a significant shift from current practice."
This past year, did you and your students feel inundated by election information, – so much so that you no longer could tell what was accurate or truthful, especially online? A lot of post-election discussions have revolved around fake news sites. Curiously, several posts listing fake news sites included The Onion, which many of us remember in its hilarious print version as a biting satire publication right up there with Mad Magazine.
Since it is unnerving to think people cannot tell the difference between political satire and news, this is an important discussion to have with students, especially when many young people get their news and information primarily online. A Pew Research Center survey cited that many viewers watch Comedy Central's The Daily Show for news and opinions, not just entertainment. A study of Millennials by the Media Insight Project found that "Fully 88 percent of those surveyed get news from Facebook at least occasionally, 83 percent from YouTube, and 50 percent from Instagram."
As our students begin to conduct research, will they have the skills to select credible and useful sources of information? We all acknowledge that students must be both critical consumers of information and critical users of that information when conducting research, writing, and creating meaningful products of their learning.
So how do we teach students to evaluate the information they find in their academic and personal lives?
Media literacy guru Frank W. Baker has some excellent suggestions in a recent post in MiddleWeb, "Students Need Our Help Detecting Fake News," He offers these questions that teachers and school librarians should be asking students about the sources of information they find:
Who created the message? (author, producer)

Who is the message intended for? (audience, demographic)

What techniques does the producer use to make the message credible or believable?

What details might be omitted and why?

Where can I go to locate more accurate information?
Many school librarians and teachers use the CRAAP acronym to help students remember the criteria for evaluating sources. An added benefit is the student laughter and attention when you discuss CRAAP, which stands for:
Currency

Relevance

Authority

Accuracy

Purpose
Students should evaluate each information source  based on these criteria. Share this video, narrated by the library director of the Academy of Art University, with your students. Audrey Ferrie explains each part of the acronym with vivid examples, including an excellent explanation about Wikipedia and when it is and is not appropriate to use for formal research.
Give students a handy form found in Research 4 Success, INFOhio's online interactive tutorial that teaches high school students how to conduct formal research. The form walks students through the four CRAP criteria: Currency, Reliability, Authority, and Purpose and Point of View.
A rubric created at Eastern Michigan University asks students to award points to websites based on Content, Authority, Currency, Purpose, and Usability. If the score is too low, students need to look for another. An English teacher colleague of mine uses a similar form that students must turn in with their sources for their research projects, proving they have found appropriate, reliable information to support their work. These criteria should work for both print and non-print sources.
If your students love gamification in the classroom, they will enjoy working through the elaborate puzzles of WEG, or Web Evaluation Game,  an online game developed by the British Columbia Institute of Technology that will teach them how to evaluate websites.
EasyBib, which many people love for citation information help, provides an interactive Website Evaluator. Paste in a URL and then complete the evaluation questions that appear on the right-hand side to decide if a site is credible or not credible. Results can be shared via email or printed.
For more helpful resources, take a look at the TeachersFirst collection of resources tagged with "evaluating sources."
Fake news, satire sites, and opinion blogs can be enjoyed for what they; but after learning and applying the CRAAP tests, our students will be using high-quality sources of information for both personal and educational purposes.