et's get personal!  Don't worry, I'll spare you the details of my ever-so-fun mom and professional life.  Instead, let's take a look at "personal"ized learning as a means by which to create an inclusive learning environment.  In very simple terms, I like to think of personalized learning as providing students with what they need, when they need it.  Honestly, it's also like giving each of our students an IEP, regardless of their eligibility status.  Doesn't that sound like an easy task to achieve?!  I mean, on average, a secondary teacher teaches about 150 students—what's the problem?  Elementary school students probably have an equal number of needs per day, right?!
If you've been following my series on the social learning theory, I can't stress enough that small steps in the right direction are key.  Testing the waters is okay; diving deep is okay too.  We need to personalize our learning after all and practice what we preach.  I think all educators would agree that we want our students to develop skills that assist in moving toward taking ownership of their learning and creating an intrinsic motivation for knowledge. (What alternate universe am I living in, you ask?)  Let's shoot for the stars and raise the proverbial bar.  Here are some practical tips for all levels on working toward creating an inclusive learning environment:
Connections before content.
Get to know your students, I mean really know them.  Learn about their likes, dislikes, interests, how they learn best, how they communicate, strengths and weaknesses.  Be a sponge and soak up all you can.  Relationships, relationships, relationships.  Get past the surface and do this every day.  Classroom circles can be a great way to facilitate this. Get creative!
Utilize collaborative teaching techniques.
Social learning is essential in creating an inclusive learning environment.  If you differentiate groupings and stations, it works great.  How about differentiating the assignments, too, or even giving students the power to choose their learning path- wow!
3.  Equal is not equitable. Perhaps one of my favorite educational graphics is below and says it all.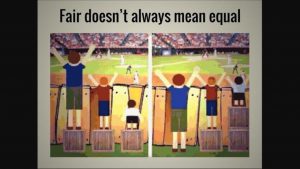 Approach your teaching in the same way— incorporate personalized learning to give students what they need, when they need it.  Students learn at different rates and in different ways.  Once this is embraced in both planning and assessing, it will truly transform your teaching.
Take risks!
Go for it—I'll be here cheering you on every step of the way.  Test the waters, or dive in.  Make mistakes and learn from them.  We owe it to our students to create an inclusive environment and model behaviors we want them to eventually mimic.