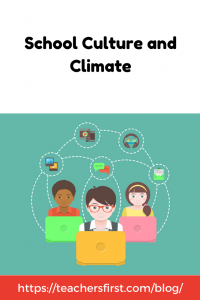 School culture and climate is a passion of mine— I find the topic interesting, and there are so many different ideas, philosophies, tips, articles, books, blogs—you get the point.  I truly enjoy reading them all and taking little bits and pieces with me to create my vision for leadership.  I think most everyone out there realizes culture and climate are critical components of a school environment, but how to achieve it is another thing altogether.  And, it is hard!  As a teacher, I was lucky to teach in a school for seven years that had a great school culture.  We were valued as educators, the energy was generally positive, and the staff was filled with problem solvers and visionaries.  We all had our bad days, but overall our administration and staff worked hard to create a culture of acceptance, collaboration, and passion.  But, how did they do it?  How did they get a majority of the staff to "buy in" to the shared vision of the school?  I've come to realize over the years that it is a slow process and there is no magic equation.  Additionally, many fluid factors can impact school culture.
I have been reading a blog post by Jimmy Casas, whom I was first introduced to at a conference quite a few years ago.  A former principal, he shares many good nuggets about school culture (find his new book here).  I recently saw a quote from the book on Twitter that stuck out at: "For those who wish to leave a lasting impact on others be prepared to share two of life's most precious commodities with them. The gift of time & the gift of love. They will forever be grateful…."  The reason I like this quote is that there are SO many new initiatives, best practices, suggestions about how to manage schools, fostering collaboration, and personalizing learning. I could go on and on. At the heart of it all, however, no matter what task you are trying to complete, is time and love.  I believe that approaching situations with these two things in mind will eventually lead to a transformation in school culture and climate for the better. Whether working with staff or students, share time and love in your approach.
I will leave you with one of my favorite quotes from Maya Angelou: "I've learned that people will forget what you said, people will forget what you did, but people will never forget how you made them feel."
Let me know your thoughts and experiences!
Resources:
Book:  Teaching With Love & Logic by Jim Ray & David Funk
Blog:  Jimmy Casas, Lead with Passion  https://jimmycasas.com/blog/